RTX: Lloyd Kaufman Can't Stop
The true king of the indies drops by Rooster Teeth's fest
There are independent filmmakers, and there are independent filmmakers, and then there's Lloyd Kaufman. After 42 years as the mad magician behind Troma Entertainment and 47 director credits, he's still slaving away in the margins, "But I'm not bitter," he grinned.
Troma is the studio that shouldn't exist, the zero-budget outpost that somehow made The Toxic Avenger and Sgt. Kabukiman into something like household names, that launched the careers of James Gunn (Guardians of the Galaxy), Joe Lynch (Everly), J.J. Abrams, and Trey Parker and Matt Stone (South Park, The Book of Mormon). Kaufman has referred to Troma as being cinema's sub-basement, but while its reputation is for micro-budget schlock, it has its part to play in the distribution history of My Dinner With Andre and My Neighbor Totoro. No, really.
So it makes all the sense in the world that Kaufman and crew would be selling off-beat faves like Poultrygeist and Tromeo and Juliet at RTX, hustling, reaching out to new fans, donning a Toxie mask or a Dolphin Man head. This is the firm that just put 151 complete films on YouTube for free (check out their channel). It's not just the glorious schlock, but more serious fair like neo-noir Ghosts of the Heartland, or the director's cut of near-legendary post-Vietnam horror Combat Shock. Kaufman said, "We owe it to our fans. They keep us around."
And yet for an unstoppable self-publicist, he's determined to bring everyone in the Troma family into the room with him, whether they be new adoptees like burlesque performers Ally Boobior and Harlee Syn, or John P. Brennan, the Troma regular responsible for Kabukiman's Cocktail Corner, "which," Kaufman explains, "just got green-lit for a second season on Troma Now, the streaming service, and you can see it for free on Troma Movies on YouTube."
The deranged chat show's guestlist includes Brian O'Halloran (Clerks) and songwriter Alan Merrill. Brennan said, "He came in and did Live From the Troma Archives with the Troma Team, and he did 'I love Rock and Roll.'"
"Who sang with him?" prodded Kaufman.
"Lloyd Kaufman, Toxie, the Super Tromettes, the Smut Cave, Dolphin Man, Kabukiman. We all came through and had a big party."
That's Kaufman in a nutshell. He's Mel Brooks raised on B-movies instead of Hollywood greats. Part avuncular inspiration, glowing with pride; part carny with an eye to the pitch. But he's also a perennial underdog that, as Lynch once put it, has made whole movies with 59 cents and a roll of duct tape. He's used to being the underdog, and has survived by knowing how to roll with the punches. The grim reality for Troma, he said, is that "the mainstream media is controlled by a small number of very evil conglomerates, and it's very hard to penetrate the hymen of the mainstream without getting fucked. Luckily we have our fans, and luckily we have net neutrality so our fans can find us."
The appeal for fans, Boobior said (ever the pitchman, Kaufman interjected, "She's an artist, she's a painter, and an expert in the burlesque arts"), is simple. "All of the green goo," she said, "I've always been a fan of B-movie horror, and really bizarre movies, especially that have the practical effects, and Troma really delivers with that."
But even with the decades of loyalty and infamy, life isn't getting any easier for Kaufman and the residents of Tromaville. "We're deep in the underground," he said, "and it gets harder and harder. We're more famous than ever, but it's more difficult to derive any kind of revenue."
Troma has always been on the margins, but it's getting tougher and tougher to have a breakout success like Class of Nuke 'Em High or Surf Nazis Must Die. Kaufman depicts his struggle as less about finding audiences, but about being allowed to find audiences in an era of increasingly corporatized media. He said, "HBO, TV, newspapers, Broadway, everything is owned by four or five companies. Everybody's worried about Oscars so white, Oscars so white. Of course they are, because 40% of the media is owned by a 90-year-old white man called Summer Redstone over at Viacom, and the other one is Rupert Murdoch, another 80-year-old white, racist, fascist, God knows whatever else he is."
In spite of those overwhelming odds, Kaufman isn't giving up. In July, he'll be running the 17th annual TromaDance, his completely free festival, in Long Island. The festival originally took place during Sundance in Park City but relocated after 10 years when Troma volunteers were arrested for handing out TromaDance fliers and charged with solicitation. "I thought solicitation rules were supposed to stop me soliciting blow jobs on Main Street," said Kaufman.
Yet, life continues in the sub-basement of cinema. Kaufman's next feature, the Kickstarter-funded Return to Nuke 'Em High: Volume 2, is imminent, as is new short "Dolphin Man Battles the Sex Lobsters." That's a big workload for the 70-year-old producer. So how does Kaufman keep it all up?
"I watch a lot of porn."
A note to readers: Bold and uncensored, The Austin Chronicle has been Austin's independent news source for almost 40 years, expressing the community's political and environmental concerns and supporting its active cultural scene. Now more than ever, we need your support to continue supplying Austin with independent, free press. If real news is important to you, please consider making a donation of $5, $10 or whatever you can afford, to help keep our journalism on stands.
READ MORE
More RTX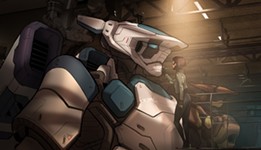 New Rooster Teeth show, Castlevania, and more
Richard Whittaker, July 17, 2017
Planet of the Apes star to deliver keynote
Richard Whittaker, June 21, 2017
More Rooster Teeth
New roles for longtime RT personalities as Jordan Levin becomes GM
Richard Whittaker, Sept. 24, 2019
Studio to address worker stress, conditions
Richard Whittaker, June 17, 2019
More by Richard Whittaker
Austin cinema chain shares exclusive Q&As with global theatres
March 4, 2021
Celebration of TV returns and adds new membership program
March 4, 2021
KEYWORDS FOR THIS POST
RTX, Rooster Teeth, RTX 2016, Lloyd Kaufman, Sgt Kabukiman
MORE IN THE ARCHIVES