Chronicle Recommends: Films About Revolution
Watch the status quo crumble to pieces in these cinematic gems
Every month, the Chronicle's film critics select a theme and offer movie recommendations. This month, in honor of both Independence Day and Bastille Day, we've chosen our favorite films about violent revolutions.
Carlos (2010)
Olivier Assayas' blistering and kinetic epic on Ilich Ramírez Sánchez aka international terrorist Carlos the Jackal may clock in at 5 ½ hours, but thanks to Édgar Ramírez's mesmerizing performance, the time just flies by. Covering the Marxist terrorist's early beginnings with trying to liberate Palestine and ending with his capture in Sudan, Carlos is more riveting than a dozen action thrillers, and depicts how a notorious terrorist turned into "bourgeois arrogance hidden behind revolutionary rhetoric." – Josh Kupecki
Duck, You Sucker (1971)
Sergio Leone. Ennio Morricone. A very boozed-up Rod Steiger. A very vengeful James Coburn. Cinematography courtesy of Giuseppe Ruzzolini. Screenplay by Luciano Vincenzoni (The Good, the Bad and the Ugly; Death Rides a Horse), Sergio Donati (Once Upon a Time in the West), and Leone himself. Class warfare via nitroglycerin, dynamite, and Coburn's incendiary, Irish Republican Army gaze. Leone quotes Chairman Mao: "The revolution is not a social dinner, a literary event, a drawing board, or an embroidery; it cannot be done with elegance and courtesy. The revolution is an act of violence." So is this stunning film. – Marc Savlov
To Live (1994)
Zhang Yimou's winner of the Jury Grand Prize at the 1994 Cannes Film Festival is an amazing epic that conveys the first 45 years of the Chinese Communist Revolution of 1949 in human terms. The film is no dry recitation or reinterpretation of history, however. Instead, the emphasis is on personal melodrama, and the effects that the constant political shifts wreak on ordinary lives as seen within one multi-generational family. The film was so on the nose that it was banned in China. – Marjorie Baumgarten
Hunger (2008)
Did you know you can hold your breath for 17 minutes? That's how long 12 Years a Slave filmmaker Steve McQueen, in his debut film, holds Hunger's centerpiece, an unbroken shot of two men sitting on opposite sides of a table. Bobby Sands is a political prisoner in Northern Ireland's Maze prison, and the priest is trying to talk him out of his hunger strike. Michael Fassbender, in his breakout role, played the real-life martyr Sands, and Liam Cunningham earned some of the best notices of his career as the priest … that is, until he strapped on the onion sigil to play Ser Davos on Game of Thrones. – Kimberley Jones
A note to readers: Bold and uncensored, The Austin Chronicle has been Austin's independent news source for over 40 years, expressing the community's political and environmental concerns and supporting its active cultural scene. Now more than ever, we need your support to continue supplying Austin with independent, free press. If real news is important to you, please consider making a donation of $5, $10 or whatever you can afford, to help keep our journalism on stands.
READ MORE
More Film
How the dancer made the leap to action star
Richard Whittaker, June 7, 2018
Celebrate May the Fourth away from a galaxy far, far away
Chronicle Film Staff, May 3, 2018
More by Chronicle Film Staff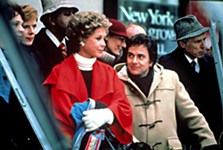 Our top picks for holiday movies with a twist
Dec. 6, 2018
Our recommendations of the finest movies from and about the ATX
Nov. 4, 2018
KEYWORDS FOR THIS POST
Film, Duck, You Sucker, To Live, Hunger, Carlos, Chronicle Recommends
MORE IN THE ARCHIVES