Chronicle Recommends: Films About Writers
Storytellers become the story
Every month, the Chronicle's film critics select a theme and offer movie recommendations. This month, to coincide with our Summer Reading issue, we've picked some of our favorite films about writers.
Swimming Pool (2003)
Writer's block sends mystery novelist Sarah Morton (Charlotte Rampling) to her publisher's French villa to work on her new novel. Enter Julie (Ludivine Sagnier), the publisher's daughter, who arrives out of nowhere to create some sexual friction. François Ozon's Hitchcockian film is a clever and sensuous psychological thriller that will have you questioning the facts long after the movie is over. – Josh Kupecki
An Angel at My Table (1990)
One of Jane Campion's early films was this made-for-New Zealand TV drama about the harrowing early life of that country's celebrated writer Janet Frame. A socially awkward child and young woman, Frame eventually suffered a nervous breakdown and was diagnosed with schizophrenia. While institutionalized, she underwent more than 200 electroshock treatments before one of her doctors noticed that her first book had just won a prestigious literary award. Thereafter, writing became Frame's lifeline, revealing her mental instability to be an acute case of shyness. – Marjorie Baumgarten
The Front (1976)
Martin Ritt's riff on the HUAC and the Hollywood blacklist of 1953 also doubles as Woody Allen's first dramatic role as an actor as nebbish deli clerk and sometime bookmaker Howard Prince. Approached by blacklisted pal Alfred Miller (Michael Murphy) to "front" for him – Prince will put his name on Miller's script, thereby circumnavigating the blacklist – Howard is soon fronting for others while enjoying his newfound faux fame. Front-loaded with a dark and flop-sweaty sense of humor and a wealth of real-life ironies (director Ritt, screenwriter Walter Bernstein, and actors Herschel Bernardi and Zero Mostel – in a bravura performance – were all victims of HUAC's pinko witch hunt), this was the first major Hollywood film to address the inequities of the blacklist. – Marc Savlov
Bright Young Things (2003)
When a young novelist's manuscript is confiscated at customs for indecency, he earns some quick cash as a gossip columnist chronicling the endless debauched party of England's swell set in the 1920s. Adapting Evelyn Waugh's Vile Bodies, first-time writer/director Stephen Fry and a terrific cast in their early career (including Emily Mortimer, Michael Sheen, David Tennant, and James McAvoy) slide between moods, from fun-loving and antic to anxious, and finally elegiac once World War II shuts the party down for good. – Kimberley Jones
A note to readers: Bold and uncensored, The Austin Chronicle has been Austin's independent news source for over 40 years, expressing the community's political and environmental concerns and supporting its active cultural scene. Now more than ever, we need your support to continue supplying Austin with independent, free press. If real news is important to you, please consider making a donation of $5, $10 or whatever you can afford, to help keep our journalism on stands.
READ MORE
More Film
How the dancer made the leap to action star
Richard Whittaker, June 7, 2018
Celebrate May the Fourth away from a galaxy far, far away
Chronicle Film Staff, May 3, 2018
More by Chronicle Film Staff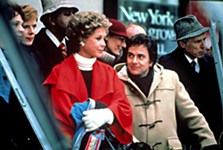 Our top picks for holiday movies with a twist
Dec. 6, 2018
Our recommendations of the finest movies from and about the ATX
Nov. 4, 2018
KEYWORDS FOR THIS POST
Film, The Angel at My Table, The Front, Bright Young Things, Swimming Pool, Chronicle Recommends
MORE IN THE ARCHIVES