Chronicle Recommends: Restaurant Films
Sweet stories and savory drama abound in these flicks
Every month, the Chronicle's film critics select a theme and offer movie recommendations. This month, in honor of the Chronicle's annual First Plates dining awards, we pick our favorite films set in restaurants.
Waitress (2007)
Now is a good time to visit Adrienne Shelly's 2007 film since a stage adaptation has just opened this season as a Broadway musical. The film stars Keri Russell as Jenna, a beleaguered waitress in a Southern diner. A mixture of comedy, drama, and wish fulfillment, Waitress is as delectable as the pies with the funny names that Jenna bakes for sale at the diner. Strong comedic support comes from obstetrician Nathan Fillion, Cheryl Hines, and writer/director Shelly as fellow waitresses, and, yes, Andy Griffith as an odd customer. Waitress is like the meringue topping on the American indie cinema. – Marjorie Baumgarten
Life Is Sweet (1990)
Mike Leigh has called this his least favorite film – a contrarian opinion for such a crowdpleaser that's sweet but never cloying, and refreshingly matter-of-fact about life's endless cavalcade of disappointments. The main focus is on a working class family in London, but supporting player Timothy Spall (a Leigh regular) steals the show as a family friend who sinks all his money into opening a restaurant. When no customers show up for the first night, Spall gets drunk, strips down to his skivvies, and smashes the place up. So much for a stiff upper lip. – Kimberley Jones
Big Night (1996)
This underrated gem tells the story of two immigrant brothers trying to save their failing Italian restaurant. Primo (Tony Shalhoub) is a brilliant chef who creates perfect dishes, but his brother Secondo (Stanley Tucci) struggles to fill the restaurant with patrons who want more Americanized fare. The two are given an opportunity to turn it around when they are promised that Louis Prima will patronize the eatery, and so begins an epic night of magnificent food, sterling ensemble acting, and gallons and gallons of wine. Do not watch on an empty stomach. – Josh Kupecki
A note to readers: Bold and uncensored, The Austin Chronicle has been Austin's independent news source for over 40 years, expressing the community's political and environmental concerns and supporting its active cultural scene. Now more than ever, we need your support to continue supplying Austin with independent, free press. If real news is important to you, please consider making a donation of $5, $10 or whatever you can afford, to help keep our journalism on stands.
READ MORE
More Film
How the dancer made the leap to action star
Richard Whittaker, June 7, 2018
Celebrate May the Fourth away from a galaxy far, far away
Chronicle Film Staff, May 3, 2018
More by Chronicle Film Staff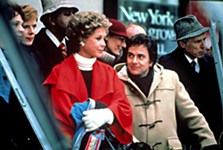 Our top picks for holiday movies with a twist
Dec. 6, 2018
Our recommendations of the finest movies from and about the ATX
Nov. 4, 2018
KEYWORDS FOR THIS POST
Film, Waitress, Life Is Sweet, Big Night, Chronicle Recommends
MORE IN THE ARCHIVES