Chronicle Recommends: Foolish Films
They're no geniuses, but these fools make for fun films
Every month, the Chronicle's film critics select a theme and offer movie recommendations. This April, the Chronicle critics celebrate their favorite fools in cinema.
It's a Mad, Mad, Mad, Mad World (1963)
Stanley Kramer's comic masterpiece features virtually all of cinema's greatest professional fools, ranging from the silent era (Buster Keaton) to golden-age icons Milton Berle, Sid Caesar, Buddy Hackett, and Ethel Merman. Seemingly the only comic missing is Ernie Kovacs and that's only because he died before production began. A 3-hour and 25-minute snapshot of its own time, the film is an endlessly watchable tale of human avarice, as a gaggle of strangers literally race across California in search of a dead gangster's hidden treasure. Dick Shawn as the frugging Sylvester is pure genius, but so is pretty much everything else about this brilliant fool's paradise. – Marc Savlov
Broadcast News (1987)
You could say that William Hurt's airhead newscaster is dumb as a fencepost, but a fencepost was never so pretty. And therein lies the rub of James L. Brooks' underrated romantic comedy, which deserves the same reverence as Eighties stablemate When Harry Met Sally…, and earns bonus points for anticipating broadcast news' sad slide into infotainment. Holly Hunter's savvy career woman knows sardonic reporter Albert Brooks is intellectually her true match, but the heart can't help but pine for the fencepost with a floppy lock of golden hair. Doesn't love just make fools of us all? – Kimberley Jones
Henry Fool (1997)
Henry Fool (Thomas Jay Ryan) plays the mysterious, commanding, bombastic life teacher to Simon Grim's (James Urbaniak) reticent, bullied, and unassuming garbage man in Hal Hartley's 1997 dramedy. A talentless novelist, Henry gives Simon a notebook into which Simon pens words that outshine his mentor's. Though Hartley's ironic stance toward the world is firmly in place, Henry Fool has a darkly comic tone as questions of art, commerce, and talent are deftly explored. – Marjorie Baumgarten
Bad Boy Bubby (1993)
If David Lynch had directed Room, it might resemble this cult masterpiece from criminally underrated filmmaker Rolf de Heer. The titular Bubby has been locked in a room by his mother for 35 years. Once he finally gets his freedom, he falls into various social classes, joins a punk band, and generally causes chaos wherever he goes. Perhaps more feral than foolish, Bad Boy Bubby is nevertheless one of the strangest films you will ever see. – Josh Kupecki
A note to readers: Bold and uncensored, The Austin Chronicle has been Austin's independent news source for over 40 years, expressing the community's political and environmental concerns and supporting its active cultural scene. Now more than ever, we need your support to continue supplying Austin with independent, free press. If real news is important to you, please consider making a donation of $5, $10 or whatever you can afford, to help keep our journalism on stands.
READ MORE
More Film
How the dancer made the leap to action star
Richard Whittaker, June 7, 2018
Celebrate May the Fourth away from a galaxy far, far away
Chronicle Film Staff, May 3, 2018
More by Chronicle Film Staff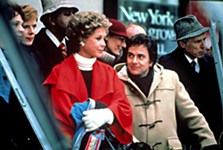 Our top picks for holiday movies with a twist
Dec. 6, 2018
Our recommendations of the finest movies from and about the ATX
Nov. 4, 2018
KEYWORDS FOR THIS POST
Film, Broadcast News, It's A Mad, Mad, Mad, Mad World, Henry Fool, Bad Boy Bubby, Chronicle Recommends
MORE IN THE ARCHIVES