Chronicle Recommends: Insane Films
Question your reality with these freaky flicks
Every month, the Chronicle's film critics select a theme and offer movie recommendations. While March Madness is traditionally used to denote the crazy, college basketball play-offs, we thought we'd honor our favorite onscreen freak-outs as Austin dives into another insanity-inducing entity: SXSW.
Network (1976)
Paddy Chayefsky's brilliant satire about the sensationalization of network news is the Idiocracy of its time, its once-doomsday scenario no longer so far-fetched now that mass media has given suck to A Current Affair, reality TV, Gawker Stalker, and 24-hour cable news pundits peddling scandal and preaching panic. "I'm as mad as hell, and I'm not going to take this anymore!" Oh, Howard, you have no idea how much worse it would get. – Kimberley Jones
Dr. Jekyll and Mr. Hyde (1931)
It's now 130 years since Robert Louis Stevenson published his canonical and repeatedly filmed novel. Forget all the others: Rouben Mamoulian's 1931 Armenian-American expressionist masterpiece is the classiest, creepiest, and flat-out most disturbing of them all. Fredric March, as the good doctor and his vulgar Jungian persona, gapes and grimaces his way through an ingenious transformation sequence that employs red and green makeup and alternating green and red lighting gels to reveal the monster within the man. Revelatory cinematography by Karl Struss (Sunrise) coats the whole paranoiac, drug-fueled schizo-show in silver nitrate atmosphere. –Marc Savlov
Gaslight (1944)
Have you ever been gaslighted? Or wondered where this modern slang expression for psychological manipulation comes from? If so, you'll find this 1944 film starring Ingrid Bergman and Charles Boyer illuminating. Gaslight features a newly married couple who move into the Victorian house the wife inherited from her murdered aunt. For reasons kept to himself, the husband isolates his wife and tampers with her reality until she believes she is going insane. The poor dear has been gaslighted. – Marjorie Baumgarten
Jacob's Ladder (1990)
Quintessential Eighties director Adrian Lyne was coming off of Fatal Attraction when he teamed up with Bruce Joel "Ghost" Rubin for this wonderfully weird slice of conspiratorial confection. An adorable Tim Robbins plays a Vietnam vet who's having some pretty horrific flashbacks. Or are they hallucinations? Maybe they're real? Never a subtle filmmaker, Lyne still knows how to orchestrate a riveting mise-en-scène (he does borrow a thing or two from photographer Joel-Peter Witkin). And the late Elizabeth Peña is riveting. Did I mention Danny Aiello as a benevolent chiropractor and a cameo from Macaulay Culkin? – Josh Kupeck
A note to readers: Bold and uncensored, The Austin Chronicle has been Austin's independent news source for over 40 years, expressing the community's political and environmental concerns and supporting its active cultural scene. Now more than ever, we need your support to continue supplying Austin with independent, free press. If real news is important to you, please consider making a donation of $5, $10 or whatever you can afford, to help keep our journalism on stands.
READ MORE
More Film
How the dancer made the leap to action star
Richard Whittaker, June 7, 2018
Celebrate May the Fourth away from a galaxy far, far away
Chronicle Film Staff, May 3, 2018
More by Chronicle Film Staff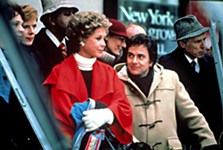 Our top picks for holiday movies with a twist
Dec. 6, 2018
Our recommendations of the finest movies from and about the ATX
Nov. 4, 2018
KEYWORDS FOR THIS POST
Film, Dr. Jekyll and Mr. Hyde, Network, Gaslight, Jacob's Ladder, Chronicle Recommends
MORE IN THE ARCHIVES