SXSW Film Announces Audience Awards
The people have spoken
By Josh Kupecki, 5:00PM, Sat. Mar. 19, 2016
Local filmmaker Keith Maitland is a popular guy with both juries and audiences this year.
Tower, Maitland's riveting film about the UT massacre, won in the Documentary Film Competition, having already taken home a Grand Jury prize earlier this week. Local filmmaking duo Brenda Greene Mitchell and Sam Wainwright Douglas' Honky Tonk Heaven won in the 24 Beats Per Second category. Another Austinite, Greg Kwedar, took home the Narrative Feature Competition Audience Award for his gripping border patrol thriller Transpecos.
---
2016 SXSW Film Festival Audience Award Winners
NARRATIVE FEATURE COMPETITION
Audience Award Winner
Transpecos
Director: Greg Kwedar
DOCUMENTARY FEATURE COMPETITION
Audience Award Winner
Tower
Director: Keith Maitland
HEADLINERS
Audience Award Winner
Demolition
Director: Jean-Marc Vallée
NARRATIVE SPOTLIGHT
Audience Award Winner
From Nowhere
Director: Matthew Newton
DOCUMENTARY SPOTLIGHT
Audience Award Winner
Mr. Gaga
Director: Tomer Heymann
VISIONS
Audience Award Winner
Jules and Dolores
Director: Caito Ortiz
MIDNIGHTERS
Audience Award Winner
I Am a Hero
Director: Shinsuke Sato
EPISODIC
Audience Award Winner
Vice Principals
Directors: Jody Hill, David Gordon Green, Danny McBride
24 BEATS PER SECOND
Audience Award Winner
Honky Tonk Heaven: Legend of the Broken Spoke
Directors: Brenda Greene Mitchell, Sam Wainwright Douglas
SXGLOBAL
Audience Award Winner
Ghostland
Director: Simon Stadler
FESTIVAL FAVORITES
Audience Award Winner
Gleason
Director: Clay Tweel
EXCELLENCE IN TITLE DESIGN
Audience Award Winner
We Are X
Designer: Allison Brownmoore of Blue Spill
A note to readers: Bold and uncensored, The Austin Chronicle has been Austin's independent news source for almost 40 years, expressing the community's political and environmental concerns and supporting its active cultural scene. Now more than ever, we need your support to continue supplying Austin with independent, free press. If real news is important to you, please consider making a donation of $5, $10 or whatever you can afford, to help keep our journalism on stands.
READ MORE
From retro horror to COVID survival, the best of the fests
Richard Whittaker, Jan. 7, 2022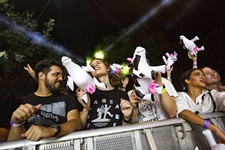 Federal program gave $130 million to over 100 local businesses
Rachel Rascoe, Oct. 22, 2021
More by Josh Kupecki
Subversive documentary pits a graffiti artist against autocracy
Jan. 21, 2022
Dystopian Brazilian sci-fi flick is Herbie meets Marx
Jan. 7, 2022
KEYWORDS FOR THIS POST
SXSW 2016, SXSW Film 2016, SXSW, Audience Awards
MORE IN THE ARCHIVES