SXSW Film Review: American Fable
A farm girl has a tough choice to make in this dreamy film
By Ashley Moreno, 1:15PM, Wed. Mar. 16, 2016
You've heard the parable of the lion and the mouse? The fable about a lion saved by a mouse he spares? In writer/director, Anne Hamilton's, new feature American Fable, Gitty (Peyton Kennedy), an 11-year old farm girl, lands in an Eighties retelling of the story.
The film saddles her with a tough choice: Side with her family and their questionable efforts to save their beloved farm, or save the life of a wealthy man – a captive-for-ransom stowed in her family's silo.
The film opens on a hard time for the farms in Gitty's area. Most families have lost or are in the process of losing everything, with Gitty's family falling into the latter group. A television plays a recording of President Regan speaking on the issue in the background, which is the main detail that timestamps an otherwise fairy tale-like film. The farm crisis culminating in the Eighties intrigued Hamilton, who, during the Q&A, suggested its contribution to the divisive political climate we see today. The rich man held captive (Richard Schiff, The West Wing) clearly symbolizes the class struggle of the time, as well as a much needed payout for Gitty's family. But those social and political undertones remain subtle, which attests to Hamilton's talent as a screenwriter. The story unfold through Gitty's eyes: a choice between saving the life of a stranger quickly becoming her friend or remaining loyal to her family.
Gitty's beloved father, Abe, (Kip Pardue), repeatedly reminds her that their farm is like no place on Earth. He's right. Flirting with magical realism, it has an otherworldly beauty that provides one more lens through which to see the film. There are many thematic interpretations expound on here, the photography, the class struggle, and the elegant symbolism. Like Gitty, you could become enthralled with the stories the characters tell each other. Or you could meditate on what happened to her older brother, Martin (Gavin MacIntosh) to make him so cruel. The film succeeds at all of it, making it seem effortless.
---
Visions, World Premiere
Thursday, March 17, 8:30pm, Alamo Slaughter
Friday, March 18, 6:15pm, Alamo South Lamar
A note to readers: Bold and uncensored, The Austin Chronicle has been Austin's independent news source for almost 40 years, expressing the community's political and environmental concerns and supporting its active cultural scene. Now more than ever, we need your support to continue supplying Austin with independent, free press. If real news is important to you, please consider making a donation of $5, $10 or whatever you can afford, to help keep our journalism on stands.
READ MORE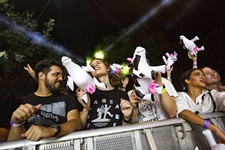 Federal program gave $130 million to over 100 local businesses
Rachel Rascoe, Oct. 22, 2021
Lucasfilm, Patreon, WWE all sending speakers for 2022
Richard Whittaker, Oct. 19, 2021
More by Ashley Moreno
Her wide-ranging set proved this comic can't be pigeonholed
April 30, 2019
This stand-up act balanced light humor and social issues
April 29, 2019
KEYWORDS FOR THIS POST
SXSW 2016, SXSW Film 2016, SXSW, American Fable
MORE IN THE ARCHIVES