SXSW Film Review: Shovel Buddies
Coming-of-age film aims for a dark quirkiness
By Sean L. Malin, 1:45PM, Tue. Mar. 15, 2016
Despite the focused efforts of executive producer/star Bella Thorne to deepen it, Shovel Buddies is a shallow small-town drama that strives for a dark quirkiness, but ends up burying any authenticity with tackiness.
Directed by Simon Atkinson and Adam Townley, from a script by Jason Hellerman, the film follows a group of teens whose late leader, Sammy, just died of leukemia. Alex Neustaedter and Kian Lawley are Jimmy and Dan, respectively: the former a brooding introvert whose relationship with Sammy's sister Kate (Thorne) destroyed their brotherhood; and the latter a hyper-sexual vandal and bully. In a fit of grief, the team goes looking for Sammy's soon-to-be-cremated body, bringing Jimmy's irascible tyke brother, Lump (Anton Starkman), along for the ride.
Hellerman's screenplay is both clever and irritating, a reminder that high-concept doesn't always mean original. The directors try to elevate the material with moments of artful direction of visuals and performances. Thorne and Neustaedter acquit themselves well, with equal measures of sexual tension and affection bubbling just below their dialogue. Then there is DP Jason McCormick, whose extreme long shots of the working-class town's sunsets make lovely use of the natural light. Nonetheless, Shovel Buddies plays like a knock-off John Green adaptation.
---
Narrative Spotlight, World Premiere
Wednesday, March 16, 8:15pm, Alamo Slaughter
Saturday, March 19, 10:45am, Alamo South Lamar
A note to readers: Bold and uncensored, The Austin Chronicle has been Austin's independent news source for almost 40 years, expressing the community's political and environmental concerns and supporting its active cultural scene. Now more than ever, we need your support to continue supplying Austin with independent, free press. If real news is important to you, please consider making a donation of $5, $10 or whatever you can afford, to help keep our journalism on stands.
READ MORE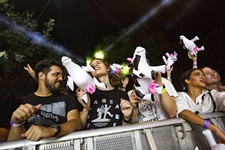 Federal program gave $130 million to over 100 local businesses
Rachel Rascoe, Oct. 22, 2021
Lucasfilm, Patreon, WWE all sending speakers for 2022
Richard Whittaker, Oct. 19, 2021
More by Sean L. Malin
dream is destiny airs on American Masters
Sept. 1, 2017
Animator Paul Beck presents A Scanner Darkly at Alamo Drafthouse Mueller
Aug. 25, 2017
KEYWORDS FOR THIS POST
SXSW 2016, SXSW Film 2016, SXSW, Shovel Buddies
MORE IN THE ARCHIVES