SXSW Film Review: Before the Sun Explodes
A weird and crazy night in West Hollywood
By Michael Agresta, 3:00PM, Tue. Mar. 15, 2016
Indie actress (Oleanna) turned filmmaker Deborah Eisenstadt is interested in uncomfortable spaces, and her new feature Before the Sun Explodes is lodged in one such uncertain territory: between "manic pixie dream girl" romantic comedy and stalker thriller.
The movie never quite works by the conventions of either genre, but it does display a sharp eye for the rootless edges of the L.A. showbiz world, where everyone is some variety of creepy weirdo.The film centers on an unfunny comedian, Ken (Bill Dawes), and the screenplay shares his anxious ambivalence with blue material. We're never sure if the movie wants us to laugh at his jokes – prepared or off-the-cuff – or grimace. The dreamlike second act has us follow Ken back to the seedy West Hollywood apartment complex of young, sexually forward comedienne Holly (Sarah Butler), who lives with an age-inappropriate male roommate and stocks her pantry with gas station snacks. Ken knows he shouldn't be there, but he sticks it out, if only to satisfy our curiosity. Is Holly's world a warning to him of the dangerous rootlessness of life outside his marriage? Or a reflection of his own deeply dysfunctional home life? The film resists any sort of conclusive ending.
---
Narrative Feature Competition, World Premiere
Thursday, March 17, 2pm, Alamo South Lamar
A note to readers: Bold and uncensored, The Austin Chronicle has been Austin's independent news source for almost 40 years, expressing the community's political and environmental concerns and supporting its active cultural scene. Now more than ever, we need your support to continue supplying Austin with independent, free press. If real news is important to you, please consider making a donation of $5, $10 or whatever you can afford, to help keep our journalism on stands.
READ MORE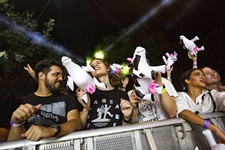 Federal program gave $130 million to over 100 local businesses
Rachel Rascoe, Oct. 22, 2021
Lucasfilm, Patreon, WWE all sending speakers for 2022
Richard Whittaker, Oct. 19, 2021
More by Michael Agresta
Making the most of ACA enrollment for 2019
Nov. 2, 2018
Love is sickness, not the cure in this anti-rom-com
March 9, 2018
KEYWORDS FOR THIS POST
SXSW 2016, SXSW Film 2016, SXSW, Before the Sun Explodes
MORE IN THE ARCHIVES