Chronicle Recommends: Films of Love
Romance is in the air in this month's movie picks
Every month, the Chronicle's film critics select a theme and offer movie recommendations. This month, in honor of Valentine's Day, we've unleashed our advice columnist, the Luv Doc, in this space for some picks to get you in the mood.
Harold and Maude (1971)
Pretty much the user manual for successful cougaring. 74-year-old Ruth Gordon plays a 79-year-old manic pixie dream girl to a baby-faced, 20-ish, death-obsessed Bud Cort. Fluffed by a Cat Stevens-infused soundtrack and the lush cinematography of the great John A. Alonso, H&M is about as sweet and intricate as a love story can get. Props to director Hal Ashby for stopping short of full frontal.
Groundhog Day (1993)
If you have to live same day over and over for eternity in Punxsutawney, Pa., you might as well get laid by a super-hot, curly haired southerner like Andie MacDowell. To do so however, you are going to have to polish your game. The underlying genius of Harold Ramis' greatest film is that we are all Phil and we all wake up every day in our own Punxsutawney. I got you, babe.
Romeo + Juliet (1996)
Most of us, given the chance to time travel, would at some point go back and punch Shakespeare in the face for making us slog through his stilted Elizabethan prose. Thankfully, director Baz Luhrmann makes the entirety of Shake's most famous romance sound like some heavy shit Samuel L. Jackson lays down before he starts capping bitches. Gun play. Car chases. Vivid colors. Dumb kids.
True Romance (1993)
Tarantino's first screenplay was definitely a home run, and not just because of the "Sicilians" scene. Gary Oldman's Drexel Spivey is Jack Sparrow's meaner, uglier blueprint. Brad Pitt plays a respectable Spicoli, Tony Soprano plays Tony Soprano, and Batman plays Elvis – so many stars in this film, it's amazing that they let Slater and Arquette have roles at all. Somewhere in all the drugs, profanity, and violence, they have a romance.
A note to readers: Bold and uncensored, The Austin Chronicle has been Austin's independent news source for over 40 years, expressing the community's political and environmental concerns and supporting its active cultural scene. Now more than ever, we need your support to continue supplying Austin with independent, free press. If real news is important to you, please consider making a donation of $5, $10 or whatever you can afford, to help keep our journalism on stands.
READ MORE
More Film
How the dancer made the leap to action star
Richard Whittaker, June 7, 2018
Celebrate May the Fourth away from a galaxy far, far away
Chronicle Film Staff, May 3, 2018
More by Chronicle Film Staff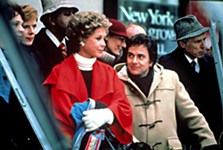 Our top picks for holiday movies with a twist
Dec. 6, 2018
Our recommendations of the finest movies from and about the ATX
Nov. 4, 2018
KEYWORDS FOR THIS POST
Film, Harold and Maude, Groundhog Day, Romeo + Juliet, True Romance, Chronicle Recommends
MORE IN THE ARCHIVES