Chronicle Recommends: Films About Memory Loss
Forget your troubles (and everything else) with these movies
Every month, the Chronicle's film critics select a theme and offer movie recommendations. Wipe the slate clean in the new year with our favorite films about amnesia and memory loss.
Away From Her (2006)
It's early-onset Alzheimer's rather than amnesia that causes Fiona's memory loss in this stirring drama from 2006. Yet it's a condition that causes this wife to forget her husband of 44 years, and fall in love with a new man at her assisted-care facility. Or are things as simple as that? Julie Christie deservedly won Golden Globe and SAG awards for this mysterious and incandescent performance. – Marjorie Baumgarten
Mulholland Drive (2001)
While Lynch has always flirted with the subconscious, he goes full-tilt dream logic with this tale of hopeful starlet Betty (Naomi Watts) and confused amnesiac Rita (Laura Harring). The two fall into a rabbit hole of mystery and menace in a caustic love letter to Hollywood dreams. Half the fun of the film is trying to determine its meaning, but don't let that get in the way of Lynch's lush direction. – Josh Kupecki
The Man Without a Past (2002)
A Harry Dean Stanton lookalike (and about as chatty as HDS, too) has his slate wiped clean after a blow to the head in this Finnish export. If you've never seen an Aki Kaurismäki film, this is a good place to start: Winner of the Grand Jury Prize at the 2002 Cannes Film Festival, Kaurismäki's droll, cutting comedy is all stealth sharp edges. – Kimberley Jones
The Long Kiss Goodnight (1996)
Amnesiac CIA agent Geena Davis displays mad kitchen skills and more in Renny Harlin's topnotch thriller. Years before Jason Bourne arrived in theatres, Davis and Samuel L. Jackson kicked ass and remembered names while attempting to foil a plot by the agency to false flag a situation in Niagara Falls in the hopes of blaming it all on Islamic terrorists. Nice prognostication, Shane Black! All this and Brian Cox, Joseph McKenna, and goddamn G.D. Spradlin as "the President." Best line: "You couldn't hit a lake if you were standing on the bottom." – Marc Savlov
A note to readers: Bold and uncensored, The Austin Chronicle has been Austin's independent news source for over 40 years, expressing the community's political and environmental concerns and supporting its active cultural scene. Now more than ever, we need your support to continue supplying Austin with independent, free press. If real news is important to you, please consider making a donation of $5, $10 or whatever you can afford, to help keep our journalism on stands.
READ MORE
More Film
How the dancer made the leap to action star
Richard Whittaker, June 7, 2018
Celebrate May the Fourth away from a galaxy far, far away
Chronicle Film Staff, May 3, 2018
More by Chronicle Film Staff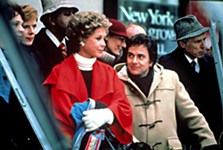 Our top picks for holiday movies with a twist
Dec. 6, 2018
Our recommendations of the finest movies from and about the ATX
Nov. 4, 2018
KEYWORDS FOR THIS POST
Film, Away From Her, Mulholland Drive, The Man Without a Past, The Long Kiss Goodnight, Chronicle Recommends
MORE IN THE ARCHIVES