Chronicle Recommends: Films With Force Awakens Cast
Catch up with the ouevre of the newest Star Wars crew
Every month, the Chronicle's film critics select a theme and offer movie recommendations. To get ready for the Star Wars: The Force Awakens juggernaut, we've picked some gems starring cast members old and new.
Attack the Block (2011)
Set largely within the confines of a London housing project, this alien invasion movie is smart, quick, funny, and economical. A racially mixed gang of teenage thugs go from muggers to homeland protectors when they're left on their own to defend their neighborhood. Among the cast of inexperienced actors is John Boyega, whose screen debut in the film was so impressive that only four years later he's back as one of the headliners of Star Wars: The Force Awakens. – Marjorie Baumgarten
A Most Violent Year (2014)
A lot of people I respect think this movie is boring. And I, respectfully, think they're nuts. This is incredibly confident filmmaking, and Oscar Isaac (a year shy of his Poe Dameron debut) matches its cool swagger as a self-made businessman trying to stay afloat – and honest – amidst the violence and corruption of early Eighties New York City. – Kimberley Jones
The Frisco Kid (1979)
Harrison Ford and Gene Wilder are perfectly cast in this sweet, Wild West road movie. Wilder plays an innocent rabbi traveling to San Francisco in 1850. Fleeced and left for dead, he comes across Ford's Tommy, a bank robber with a soft spot. While the film may seem a bit sentimental for contemporary audiences, it is a heartwarming adventure, and one of Ford's best comedic roles. – Josh Kupecki
Among Giants (1998)
Sam Miller's directorial debut is a little­ seen gem of a film. The late, great Pete Postlethwaite heads up a uniformly excellent cast as the boss of a crew whose job it is to paint the massive electrical power pylons dotting the Yorkshire moors. Rachel Griffiths is Postlethwaite's reluctant love interest, a pre-Gollum Andy Serkis – who would go on to play Supreme Leader Snoke in The Force Awakens – turns up as part of the crew, and Simon Beaufoy's (Everest) script is as quietly electric as a high ­tension line. – Marc Savlov
A note to readers: Bold and uncensored, The Austin Chronicle has been Austin's independent news source for over 40 years, expressing the community's political and environmental concerns and supporting its active cultural scene. Now more than ever, we need your support to continue supplying Austin with independent, free press. If real news is important to you, please consider making a donation of $5, $10 or whatever you can afford, to help keep our journalism on stands.
READ MORE
More Film
How the dancer made the leap to action star
Richard Whittaker, June 7, 2018
Celebrate May the Fourth away from a galaxy far, far away
Chronicle Film Staff, May 3, 2018
More by Chronicle Film Staff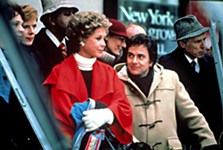 Our top picks for holiday movies with a twist
Dec. 6, 2018
Our recommendations of the finest movies from and about the ATX
Nov. 4, 2018
KEYWORDS FOR THIS POST
Film, A Most Violent Year, Attack the Block, The Frisco Kid, Among Giants, Chronicle Recommends
MORE IN THE ARCHIVES