Austin Film Festival: Coming Through the Rye
A Salinger-obsessed teen searches for his idol
By Steve Davis, 12:40PM, Sun. Nov. 1, 2015
It's remarkable how J.D. Salinger's 1951 novel The Catcher in the Rye continues to resonate with each generation of readers who identify with the book's misunderstood (in his mind) protagonist, the sensitive and troubled 17-year-old Holden Caulfield.
He's the poster child for the messy emotions of life verging on adulthood, angry and jaded one minute, happy and hopeful the next, confused and scared once again. The book apparently registered with director/screenwriter Sadwith, who freely cross-references the Salinger tale at every opportunity in Coming Through the Rye. Set in 1969, the movie features a socially alienated East Coast prep school student (Alex Wolff) named Jamie who's obsessed with everything Holden, going so far as to write a play version of the novel fanatically faithful to the original work, down to each word of dialogue. Wearing a bright red hunting cap like you-know-who, Jamie sets out with his (girl)friend Dee-Dee (LaVie Owen) to find the notoriously reclusive author (Chris Cooper) and obtain his permission to stage the production. You can guess the slightly misanthropic and zealously protective Salinger's response.
At some point, the stream of citations to the literary source feels a little like theft, though Sadwith's passion for the novel is obviously sincere. Even if you've never read the novel (really?), Wolff's spot-on performance is worthwhile. In a brief scene in which the gangly actor nervously presents himself as a married man (on the fly, he switches a ring to his left hand and turns the band) to reserve a motel room for two, Wolff comically yet poignantly trembles in both fear and excitement in carrying out his grownup masquerade. Like his older brother and fellow actor Nat (they could be twins), the younger Wolff is the genuine thing. To borrow from Holden's vernacular, the kid is no phony.
---
Coming Through the Rye screens again Wednesday, Nov. 4, 4:30pm, at the Galaxy Highland. See www.austinfilmfestival.com for info and tickets, and follow all of our AFF coverage here.
A note to readers: Bold and uncensored, The Austin Chronicle has been Austin's independent news source for over 40 years, expressing the community's political and environmental concerns and supporting its active cultural scene. Now more than ever, we need your support to continue supplying Austin with independent, free press. If real news is important to you, please consider making a donation of $5, $10 or whatever you can afford, to help keep our journalism on stands.
READ MORE
More Austin Film Festival 2015
Panel agrees that there is a lack of it
Jessi Cape, Nov. 3, 2015
Teens adrift in nihilism from the mind of James Franco
Steve Davis, Nov. 2, 2015
More by Steve Davis
Ryan and Duchovny ponder the road not taken in magical rom-com
Nov. 3, 2023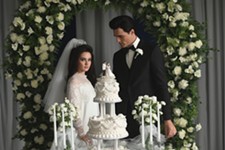 Measured journey behind closed doors of rock & roll's most famous marriage
Nov. 3, 2023
KEYWORDS FOR THIS POST
Coming Through the Rye, Austin Film Festival 2015
MORE IN THE ARCHIVES