Chronicle Recommends: Teacher Films
Get schooled with this month's movie picks
Every month, the Chronicle's film critics select a theme and offer movie recommendations. September means back to school, so we've chosen films centered around the teaching profession (or lack of it, in one case).
The Piano Teacher (2001)
Much like its exacting and severe title character, Michael Haneke's The Piano Teacher is a demanding and clinical look at pyschosexual obsession. As Erika, Isabelle Huppert gives a heartrending performance as a respected instructor in Vienna whose repressed sexual compulsions become realized when she is courted by one of her students. If 50 Shades of Grey was made by people who actually understood S&M, this would be it. – Josh Kupecki
The Prime of Miss Jean Brodie (1969)
In 1930s Scotland, the radical-thinking Miss Brodie treats her favorite students like pets, and they reward her with a puppyish devotion – that is, until Brodie's self-aggrandizement steers her girls into dangerous situations. Juicy stuff, this, and the divine Maggie Smith leaves bite marks in detailing Brodie's descent from romantic heroine to disgraced charlatan. – Kimberley Jones
Blackboards (2000)
Two itinerant teachers search for students in the mountain passes of Iranian Kurdistan. As they travel by foot with blackboards strapped to their backs, one falls in with a group of old men who are trying to return to their bombed-out village. The other finds a group of young illiterate boys who work as mules carrying contraband across the border between Iran and Iraq. Directed in 2000 by 20-year-old Samira Makhmalbaf, Blackboards blends humor and existentialism for a unique reflection on knowledge. – Marjorie Baumgarten
Over the Edge (1979)
Teachers, cops, parents, and authority figures over the age of 15 are the enemy in director Jonathan Kaplan's eerily timeless post-youthquake rager. Matt Dillon debuts as the bored, teen-hood incarnate who leads a latchkey kid revolution – future punk rockers one and all – out of the soulsucking hellscape of suburbia and into the literal halls of conflagration re-education. "Man, one stick of dynamite would do it," and it does. A still-relevant reminder that the kids are never, ever all right. – Marc Savlov
A note to readers: Bold and uncensored, The Austin Chronicle has been Austin's independent news source for over 40 years, expressing the community's political and environmental concerns and supporting its active cultural scene. Now more than ever, we need your support to continue supplying Austin with independent, free press. If real news is important to you, please consider making a donation of $5, $10 or whatever you can afford, to help keep our journalism on stands.
READ MORE
More Film
How the dancer made the leap to action star
Richard Whittaker, June 7, 2018
Celebrate May the Fourth away from a galaxy far, far away
Chronicle Film Staff, May 3, 2018
More by Chronicle Film Staff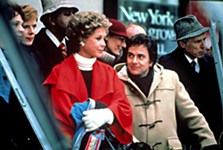 Our top picks for holiday movies with a twist
Dec. 6, 2018
Our recommendations of the finest movies from and about the ATX
Nov. 4, 2018
KEYWORDS FOR THIS POST
Film, The Prime of Miss Jean Brodie, Blackboards, The Piano Teacher, Over the Edge, Chronicle Recommends
MORE IN THE ARCHIVES