Q&A: Burnie Burns
Rooster Teeth founder on RTX, Fullscreen, and convergence
Five years ago, Rooster Teeth was looked down upon for being just a streaming video site. Now, as networks seek a future beyond cable, they look prescient. Before the RTX festival this weekend, CEO Burnie Burns explained that, when it comes to online content, "The next few years are going to be a very crowded, very competitive market place."
Last year, the fiercely independent company was acquired by content alliance and provider Fullscreen. At the time, Burns said the reason was to allow Rooster Teeth to expand, and for the management to get their hands dirty on the creative side again. The last few months have paid off from that perspective, with multiple new shows. Burns himself was taking a break from one of his shows to talk to the Chronicle, but sometimes it's hard to keep track of who is doing what. "That's the thing, isn't it?" said Burns. "Every day is a new adventure." Today's task was their new hypothetical scenarios show, Million Dollars But. "You get offered a million dollars but there's a catch. It's a lot of fun to torture our co-workers with."
Austin Chronicle: Rooster Teeth has been going on so long, and you're so hands-on with the creative side. How do you balance the performance side with the duties of management of a company that seems to double in size every five minutes?
Burnie Burns: The growth is very difficult to manage. Basically what happened for a little while was that the core creatives that started the company were spending less and less time on creative projects, and we didn't want that. So with Fullscreen, we've got the ability to have a robust management team and a sales force that can help us with all that, while we focus on the creative side of it. It's been great. I'm on set all the time now. That wasn't the case two years ago.
AC: So was that sense of being divided and pulled in too many directions the big drive for the deal?
BB: The biggest motivation is that we've been doing online video since 2003. I knew back then even that everything was headed in this direction. That eventually the line between your TV and your computer screen, and mobile wasn't around then but mobile, the line between what those things are and what those screens mean, the lines were going to become blurrier and blurrier, and people were going to watch whatever content they wanted to, on whatever screen was the most convenient to their lives.
I knew it was going to happen, and I'm actually surprised it took as long to happen as it did. But everything was eventually headed this way, and eventually that was going to happen. What happened is that those eventualities became imminent about 18 months ago. Suddenly, everyone woke up and everything was moving online. We've got Netflix making original series, CBS placing their network online, and suddenly everyone's announcing some kind of digital network for serving their content online.
So we were suddenly in an environment where we're not competing with the CutiePies of the world. Now we're competing with HBO and Netflix Original. Even BitTorrent, the file sharing site, made an announcement a few months ago that they're going to be funding original series. We just wanted to make sure that we had such a huge part in the first wave of online video, and we were such a pioneer in that, that I wanted to make sure that we're in a good position for what's coming in the next few years.
AC: We've seen a great winnowing of film criticism websites over the last year or so, with talented people finding it tough to make it in a crowded market. At the same time, we're seeing a lot of firms jump into a market sector you helped build. How do you ensure longevity in that ever-crowded market without becoming a victim?
BB: The big difference between us and other people who produce content is that we started doing this to make things that we wanted to make. We didn't discover online and think, 'oh, this is really lucrative, we've got to get on board with it.' We've been here since 2003. We've been here for three years before YouTube started. So our content is very genuine. It comes from a very genuine place.
I wasn't tapped to be on our channel. There was no audition process. We started making content because we wanted to see it, and so our content ended up being genuine. The audience today, what it comes down to is that you can watch anything, you can't watch everything. So it becomes very important to people what they choose to watch, and we have a very great audience that is very dedicated to Rooster Teeth. They know when they show up and watch one of our videos, they know what they're going to get. So while we still grow our company, we try to honor that.
AC: Now you're moving into feature films with Lazer Team. How does that fit into this model? Is this an experiment, or the next stage?
BB: Our roots are as live-action filmmakers. That's how I met my business partner Matt Hullum. I was very inspired by Robert Rodriguez and I wanted to make movies, but I was a computer science student, and instead of taking [radio, television, and film classes], why not make a movie like Robert Rodriguez did? I can figure out everything I need to know. I found a film student who thought that was a pretty good idea. We made a movie together. We spent a year doing that, we thought we were done, and then we found out there was a whole other step, which is getting your movie seen by people.
So while we were working on that, I was working in the dot com industry, and I was watching what was happening in the telecom revolution, and how the print industry was radically changing because of online blogs and everything else. Then I watched how the music industry changed very, very dramatically because of Napster. It just seemed like a natural progression that video was going to be next.
We started putting videos up in 2001, got really serious about it in 2003. It wasn't easy. We had to teach people how to download movie files. You couldn't even watch them in your browser. It's amazing to think of an audience today where they'd have to open a separate player to watch your content. But the goal was always to get back to feature filmmaking.
---
Burnie Burns will be appearing this weekend at RTX, Aug. 7-9 at the Austin Convention Center, 500 E. Cesar Chavez. More info at www.rtxevent.com.
For more on Rooster Teeth and RTX, read Rooster Teeth Levels Up, Aug. 7.
A note to readers: Bold and uncensored, The Austin Chronicle has been Austin's independent news source for almost 40 years, expressing the community's political and environmental concerns and supporting its active cultural scene. Now more than ever, we need your support to continue supplying Austin with independent, free press. If real news is important to you, please consider making a donation of $5, $10 or whatever you can afford, to help keep our journalism on stands.
READ MORE
More Rooster Teeth
Doctor Who star cast alongside Michael B. Jordan in Rooster Teeth Show
Richard Whittaker, July 30, 2018
Journalist turned comic writer part of Rooster Teeth's new show
Richard Whittaker, July 18, 2018
More RTX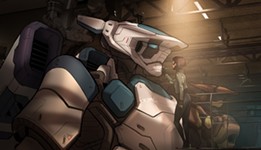 New Rooster Teeth show, Castlevania, and more
Richard Whittaker, July 17, 2017
Planet of the Apes star to deliver keynote
Richard Whittaker, June 21, 2017
More by Richard Whittaker
Austin director cleans up with return of the cult classic
March 21, 2019
Teen sexuality as a spectrum in this tender drama of growing up and coming out
March 22, 2019
KEYWORDS FOR THIS POST
Rooster Teeth, RTX, Burnie Burns, Lazer Team, RTX Austin 2015
MORE IN THE ARCHIVES