Chronicle Recommends: Bad Father Films
These movies have some serious daddy issues
Every month, the Chronicle's film critics select a theme and offer movie recommendations. This month, in honor of Father's Day, we've chosen our favorite bad dads.
The Great Santini (1979)
Robert Duvall is nastier than a napalm-flamed polecat as retired Marine Lt. Colonel Bull Meechum, who returns home and inflicts a brutal torrent of testosterone-and-booze fueled sadism on his family, including a son played by Michael O'Keefe. Think Apocalypse Now's Lt. Kilgore transported to a placid domestic setting and you're halfway there. Based on Pat Conroy's autobiographical novel, it's an intense, tougher-than-a flying leatherneck father-son drama with a bedrock of love at its core. – Marc Savlov
The Stepfather (1987)
Before he was stuck on an island out of time as John Locke in Lost, Terry O'Quinn was flat-out bonkers as the titular character in this underrated Eighties horror flick. Taken from a Donald E. Westlake story, O'Quinn plays a man who just can't help slaughtering his family when there is anything remotely awry with the picture-perfect family he tries to foster. Accept no substitutes (or remakes). – Josh Kupecki
Bonjour Tristesse (1958)
What kind of a dad uses his daughter as a wingman? That would be Raymond (David Niven), a playboy widower passing along his love of hedonism and short-term affairs to his 17-year-old daughter (Breathless breakout Jean Seberg, in only her second film). Otto Preminger's film was initially a critical and commercial flop, but it's held up well – a classic Hollywood melodrama smooth-moving between icky Electra complex and French Riviera travel porn. – Kimberley Jones
Paper Moon (1973)
Moses teaches young Addie, who may or may not be his daughter, the art of the con while swindling bereaved widows in the Depression-era Midwest. Ryan O'Neal plays Moses, and his actress and daughter Tatum O'Neal won an Oscar for playing Addie in this movie directed by Peter Bogdanovich. We're sure this fictional example of parenting outside the ethical margins bears no relationship to the O'Neal patriarch's real-life parenting of his famously troubled children. – Marjorie Baumgarten
A note to readers: Bold and uncensored, The Austin Chronicle has been Austin's independent news source for over 40 years, expressing the community's political and environmental concerns and supporting its active cultural scene. Now more than ever, we need your support to continue supplying Austin with independent, free press. If real news is important to you, please consider making a donation of $5, $10 or whatever you can afford, to help keep our journalism on stands.
READ MORE
More Film
How the dancer made the leap to action star
Richard Whittaker, June 7, 2018
Celebrate May the Fourth away from a galaxy far, far away
Chronicle Film Staff, May 3, 2018
More by Chronicle Film Staff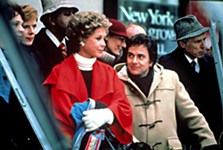 Our top picks for holiday movies with a twist
Dec. 6, 2018
Our recommendations of the finest movies from and about the ATX
Nov. 4, 2018
KEYWORDS FOR THIS POST
Film, The Stepfather, The Great Santini, Bonjour Tristesse, Paper Moon, Chronicle Recommends
MORE IN THE ARCHIVES