Chronicle Recommends: May Movies
These picks all feature a "May" in the title or the cast
Every month, the Chronicle's film critics select a theme and offer movie recommendations. This month, we all picked our favorite May – person or movie.
Anna May Wong: Shanghai Express (1932)
Hollywood's first Asian-American star is barely remembered today, but Wong remains as alluring, exotic, and sensually hypnotic as she was when she starred alongside Marlene Dietrich in Josef von Sternberg's rip-roaring melodrama Shanghai Express. Anti-miscegenation laws and the career-stifling Hays Code had previously led her, like Louise Brooks, to Europe, but Wong returned for Shanghai Express, and her performance nearly blows Dietrich off the screen. – Marc Savlov
Elaine May: A New Leaf (1971)
Trailblazing comedienne and comic director Elaine May wrote, directed, and starred in this wonderfully weird comedy as a mousy heiress preyed upon by an impoverished playboy with murderous designs (Walter Matthau, that legendary slob, playing against type as an elitist snob). When Paramount Pictures recut the movie, May tried to block it from release – she'd envisioned a much nastier satire – but what made it to screen is pretty charming: an arsenic-laced sweet treat. – Kimberley Jones
Martha Marcy May Marlene (2011)
Elizabeth Olsen gives a riveting performance as Martha, a young woman fleeing a Manson-like cult in the Catskill Mountains. Plagued by memories and trauma, Martha's shaky attempts to re-assimilate into society and reconnect with her older sister, Lucy (Sarah Paulson) are juxtaposed with flashbacks to her time in the cult, run by a supremely creepy John Hawkes. Director Sean Durkin's visually beautiful film carefully builds to one of the most paranoiac and haunting endings in recent memory. – Josh Kupecki
May Fools (1990)
The relatives gather at their family's estate in the French countryside for the funeral of their matriarch, whose burial must be postponed because of a gravediggers' strike. Set during the May 1968 student uprising in Paris, this comedy of manners is set against the winds of change blowing outside its gates. Michel Piccoli heads the gathered mourners as they bicker over politics, vie for heirlooms, and otherwise mix and match in one of the great Louis Malle's last films. – Marjorie Baumgarten
A note to readers: Bold and uncensored, The Austin Chronicle has been Austin's independent news source for over 40 years, expressing the community's political and environmental concerns and supporting its active cultural scene. Now more than ever, we need your support to continue supplying Austin with independent, free press. If real news is important to you, please consider making a donation of $5, $10 or whatever you can afford, to help keep our journalism on stands.
READ MORE
More Film
How the dancer made the leap to action star
Richard Whittaker, June 7, 2018
Celebrate May the Fourth away from a galaxy far, far away
Chronicle Film Staff, May 3, 2018
More by Chronicle Film Staff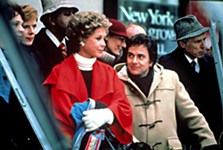 Our top picks for holiday movies with a twist
Dec. 6, 2018
Our recommendations of the finest movies from and about the ATX
Nov. 4, 2018
KEYWORDS FOR THIS POST
Film, Elaine May, A New Leaf, Anna May Wong, Shanghai Express, Martha Marcy May Marlene, May Fools, Chronicle Recommends
MORE IN THE ARCHIVES