Chronicle Recommends: Rain in Films
Celebrate April showers with cinema's most iconic uses of rain
Every month, the Chronicle's film critics select a theme and offer movie recommendations. Rain has been a staple of movies, whether it pours down in the innumerable kissing-in-the-rain moments, bouts of joy, or ultimate release. Here we celebrate a few of them.
In the Mood for Love (2000)
In Wong Kar-wai's intoxicating, bittersweet love story of two neighbors whose spouses are having an affair with each other, it seems to rain at the most inopportune moments. Maggie Cheung and Tony Leung slowly circle each other in the stifling society of 1962 Hong Kong, their partners' infidelity bringing them together. This is Wong firing on all cylinders, with lush cinematography, a gorgeous soundtrack, and a heartbreaking story you can't turn away from. – Josh Kupecki
Key Largo (1948)
It rains so hard in this classic crime story set in the Florida Keys that the storm is technically a hurricane – which is the plot device that keeps a wheelchair-bound owner of a rundown hotel and his widowed daughter-in-law trapped in place when gangsters take over the joint. John Huston directs Humphrey Bogart and Lauren Bacall in their fourth and final film pairing, which also features powerhouse performances by Edward G. Robinson and Lionel Barrymore. – Marjorie Baumgarten
Rain (1932)
This pre-Code golden shower of sopping depravity and creepy religiosity is a doozy, even if star Joan Crawford hated it. Adapted from Somerset Maugham, Crawford plays a morally conflicted prostitute stranded in monsoon-season Pago Pago with an impotent missionary (Walter Huston), plenty of rum, and the increasingly nightmarish patter of raindrops on a forest of palm fronds. Says Crawford to Huston: "Oh, no, Mr. Davidson. Your God and me could never be shipmates." Hallelujah! – Marc Savlov
I Know Where I'm Going! (1945)
Buckets of rain be damned, this Powell & Pressburger picture is a sunny romancer about a pragmatic young woman on her way to a loveless but lucrative marriage on a remote Scottish isle. Gale storms keep her stuck on the mainland, where she meets a charming naval officer at home on leave. They trade barbs in wet weather, then dry off just in time to swap longing looks. It's perfection. – Kimberley Jones
A note to readers: Bold and uncensored, The Austin Chronicle has been Austin's independent news source for over 40 years, expressing the community's political and environmental concerns and supporting its active cultural scene. Now more than ever, we need your support to continue supplying Austin with independent, free press. If real news is important to you, please consider making a donation of $5, $10 or whatever you can afford, to help keep our journalism on stands.
READ MORE
More Film
How the dancer made the leap to action star
Richard Whittaker, June 7, 2018
Celebrate May the Fourth away from a galaxy far, far away
Chronicle Film Staff, May 3, 2018
More by Chronicle Film Staff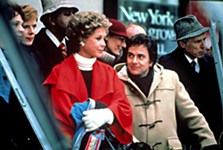 Our top picks for holiday movies with a twist
Dec. 6, 2018
Our recommendations of the finest movies from and about the ATX
Nov. 4, 2018
KEYWORDS FOR THIS POST
Film, Key Largo, Rain, I Know Where I'm Going!, In the Mood for Love, Chronicle Recommends
MORE IN THE ARCHIVES