Chronicle Recommends: SXSW Films
The best of the fest
Every month, the Chronicle's film critics select a theme and offer movie recommendations. The 2015 SXSW Film Festival is busy chewing at our synapses, but the wonderful overload got us daydreaming about some of our favorites from past SXSW fests.
The Loved Ones (SXSW 2010)
Following the tragic death of his father, Brent has turned sullen and suicidal. When shy girl Lola asks him to the high school dance, he politely declines. He soon learns that whatever Lola wants, Lola gets. Kidnapped by Lola's dad, he awakes to find himself tied up and in for the worst night of his life. Combining elements from John Hughes, Misery, and The Texas Chain Saw Massacre, this darkly comedic, audacious Aussie import boasts a terrific performance by Robin McLeavy as psychotic spoiled brat Lola, a killer soundtrack, and a demented tone that never lets up. – Josh Kupecki
Rhythm Thief (SXSW 1995)
Winner of the award for Best Dramatic Feature at the 1995 SXSW Film Festival, the look of this 16mm, black-and-white film is well-suited to the grimy, low-rent world of New York's Lower East Side where it takes place. The film "carpes the hell out of its diem" is what I said in my original review, and I stand by that assessment of this story about a bootleg cassette dealer and the odd woman with writing on her body who comes to visit. – Marjorie Baumgarten
Six-String Samurai (SXSW 1998)
Lance Mungia's post-apocalyptic, microbudget smashterpiece is a paean to nearly every road movie ever made. The film is rife with nods to everything from
The Wizard of Oz
to Chaplin's
The Kid
, and Buddy Holly lookalike Jeffrey Falcon radiates chopsocky cool à la
Lone Wolf and Cub
– and even gets to kill Death. Endlessly quotable: "If I were you, I would run." "If you were me, you'd be good-looking.'"
– Marc Savlov
Weekend (SXSW 2011)
A world premiere at SXSW 2011, this British low-budget indie takes a low-stakes premise – two guys hook up, talk a lot – and turns it into a stirring and sensitively wrought romance for the ages. – Kimberley Jones
A note to readers: Bold and uncensored, The Austin Chronicle has been Austin's independent news source for over 40 years, expressing the community's political and environmental concerns and supporting its active cultural scene. Now more than ever, we need your support to continue supplying Austin with independent, free press. If real news is important to you, please consider making a donation of $5, $10 or whatever you can afford, to help keep our journalism on stands.
READ MORE
More Film
How the dancer made the leap to action star
Richard Whittaker, June 7, 2018
Celebrate May the Fourth away from a galaxy far, far away
Chronicle Film Staff, May 3, 2018
More by Chronicle Film Staff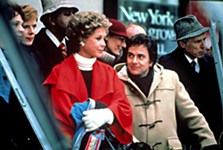 Our top picks for holiday movies with a twist
Dec. 6, 2018
Our recommendations of the finest movies from and about the ATX
Nov. 4, 2018
KEYWORDS FOR THIS POST
Film, Rhythm Thief, Six-String Samurai, The Loved Ones, Weekend, Chronicle Recommends
MORE IN THE ARCHIVES