DVDanger: I Hear Voices
Horror elevated aurally by Henry Rollins and Jeffrey Combs
The sealed-room drama is a conundrum. A single location is appealing for first-time filmmakers because it's cheap and easy. But the demands of leaving characters in a single room, under the camera's glaring eye, are hard.
Take the underground/subterranean horror of In the House of Flies, which is mostly restricted to the merciless confines of a killer's concrete basement. Lindsay Smith and Ryan Kotack are two young lovers in 1988 Niagara, on the cusp of the next stage of their relationship. There's an uncomfortable shuffle between the two when a wedding proposal is accepted just down the fence from them at the scenic view, and they start to have a meaningful conversation. Being gassed and kidnapped by a deranged killer puts a pin in that chat, but being stuck in his torture room gives them nothing to do but cling to each other. The animal instinct of survival challenges the human strength of love as unseen abductors put the pair through a combination of the Stanford Prison experiment and Sophie's Choice.
The tortures to which they are subjected are increasingly monstrous, but everything is already in the seemingly sealed room with them, contained in a series of padlocked suitcases. While this seems like an idea for an off-brand Saw knock-off, instead it's a creative, if despairing, analysis of what people will do to survive. Make no mistake, this is Martyrs/Inside level of extreme horror. In fact, if director Gabriel Carrer, had made this 10 years earlier and with a French cast, it would have easily been considered part of the New French Extremity.
The 1988 setting and nightmarish tone also steers close to the retro instincts of Ti West and Adam Wingard. The general feel is as if West steered closer to the experimental roots of his debut Pop Skull, and made its followup A Horrible Way to Die about the actions, rather than consequences, of a serial killer. There are almost no hints about who the killer, or killers, are. They are unseen, heard only as a voice over a telephone, with an implication that at least one of them may be nowhere near.
Smith and Kotack are heartbreakingly plausible as a couple who run through a sealed concrete hell, and that would be the strongest part of the movie – if, and only if, this was the same kind of mediocre post-torture porn neo-splatterpunk that we've been sitting through for years. Yes, like abandoned hospitals and found footage, abduction dramas are one of the entry points for underground horror directors. But adding Henry Rollins as the voice on the end of the phone is a game changer.
I recently asked the punk legend/author/actor why he has taken on so many animated voiceover gigs, and it basically comes down to his obsession with packing as much in to his life as possible. That also explains the diversity, from Adventure Time to American Dad! to his core part as air-bending anarchist Zaheer in The Legend of Korra. That's probably the closest part he has ever had to the godlike Voice in that both want to take a scalpel to the comfortable world in which everyone lives. Zaheer wants to create a Utopia that seems like carnage: The Voice wants, for whatever reason, to make his victims realize that they are powerless in the face of a merciless universe. Job's tests have nothing on the fate of this couple, and Rollins makes a convincing God, setting arbitrary rules.
There is no mercy in his flat, snarled monotone, making him the polar opposite of the purring off-set charmer in another sealed-room shocker. Motivational Growth depends on another celebrity voice – the legendary horror character actor Jeffrey Combs – for its above-the-title credibility. Yet the dominating and enthralling voice is Adrian DiGiovanni as Ian, a worthless lock-in who has barely seen the outside world in 16 months. His only friend in the world is his antiquated TV set Kent, and he's exploded, so now everybody is telling him he needs a plasma TV. Not that he knows what one of those is.
DiGiovanni is a sketch comedian by training, and it shows, because Motivational Growth is functionally a two-man stage show. It's just that one of those two people is a large pile of sentient fungus in the corner of his hideously disgusting bathroom and voiced by Combs. He is, as Ian puts it, a frightfully intelligent lump of fungus, and one with a not-altogether-benevolent interest in his host's well-being.
Let's cut to the chase: A startlingly sharp script from writer/director Don Thacker balances between charismatic/schlubtastic monologues from DiGiovanni and his conversations with the Mold (as the green mass always refers to itself), which makes this one of the most weirdly fun films in years.
A sitting-room drama crossed with Little Shop of Horrors, sprinkled with Dario Fo-esque absurdism and straight-to-video sci-fi oddities like Killer Clowns From Outer Space, it swims gracefully and with charm for nearly two hours. That's a normally unforgivable length in an indie comedy/horror, but Thacker's undeniably theatrical authorial voice, his insistent editing, some surprising visual twists (32-bit animation), and a queasy question regarding whether this is all simply Ian's death dream, make it fly. Put that dialogue into the mouth of Combs, even as a mushroom puppet, and it's all the best parts of his sleazy Southern Baptist/motivational speaker/snake-oil vendor timbre. And DiGiovanni is his equal and sparring partner.
The third character is the set. Whereas In the House of Flies just found an abandoned location, Ian's apartment is a masterpiece of squalid design, and any indie filmmaker really needs to listen to the commentary track to hear Thacker and Combs explain how detailed and creative the shoot was.
---
In the House of Flies and Motivational Growth are available now on DVD from Parade Deck Films/MPI. Also recently released:
The Intruders (Sony) A clinically depressed student (iCarly's Miranda Cosgrove) and her architect father (Donal Logue) move in to a new house with a terrible secret and … well, it's pretty predictable. This sub-Blumhouse release is part spook show, part hidden-room horror à la Housebound and The People Under the Stairs, with neither the wit nor creativity of either.
Green Street Hooligans: Underground (Lions Gate) The world's most unlikely franchise, spinning off from Elijah Wood's 2005 football hooligan drama, takes a turn for the deeply strange with British MMA actor Scott Adkins taking the lead as a former thug turned legit gym owner who decides to turn his old crew into a bare-fisted army. Like his turn in the unexpectedly dark and cerebral Universal Soldier: Day of Reckoning, Adkins turns this into part of the new wave of philosophical action flicks, rather than leaving it in the dull swarm of thug escapades that have aped the original. Very ambitious, only somewhat successful.
Fear Clinic (Anchor Bay) Director Robert Hall takes his critically acclaimed horror Web series about a doctor (Robert Englund) with a device that can "cure" fear and turns it into a feature. It's an odd duck, one that would have been improved by the inclusion of some of the series in order to include some context. And while his budget clearly can't match all his intentions, the idea of fighting a potentially supernatural terror with man's flimsy technology is still intriguing. Slipknot vocalist Corey Taylor makes a great cameo as a diffident maintenance man, but it's really Englund who gives this weight. Having Freddy Kreuger play with the dreaming is a no-brainer, and he evades the eye-winking, nudge-nudge aspects by facing the darkness like a neo-Peter Cushing.
Late Phases (Dark Sky Films) It's not out until March 10, but worth your while to pre-order right now. Director Adrián García Bogliano is Spanish, but his career has seen him steadily been moving across the Americas (Cold Sweat and Penumbra in Argentina, The Accursed in Costa Rica, Here Comes the Devil in Mexico). He finally makes it to the U.S. with this offbeat tale of a blind veteran (Stakeland's Nick Damici) going toe-to-claw with werewolves in a retirement community. Utterly unusual, totally fresh, and a really heartfelt meditation on aging that would make a perfect double bill with Bubba Ho-Tep (read our interview with Damici here).
DVDanger will return after SXSW.
A note to readers: Bold and uncensored, The Austin Chronicle has been Austin's independent news source for over 40 years, expressing the community's political and environmental concerns and supporting its active cultural scene. Now more than ever, we need your support to continue supplying Austin with independent, free press. If real news is important to you, please consider making a donation of $5, $10 or whatever you can afford, to help keep our journalism on stands.
READ MORE
More DVD Watch
Ted Geoghegan on blood and lessons in his historical drama
Richard Whittaker, April 19, 2018
Classical witchcraft drama gets a bleak, contemporary twist
Richard Whittaker, April 3, 2018
More DVDanger
New documentary reveals the man behind moviedom's monsters
Richard Whittaker, July 21, 2018
Horror director Aislinn Clarke on Ireland's dirty secret
Richard Whittaker, July 14, 2018
More by Richard Whittaker
Telling a love story without the "I love you"
Oct. 7, 2022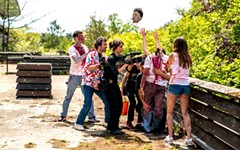 French remake of beloved Japanese movie-making comedy adds a little
Sept. 30, 2022
KEYWORDS FOR THIS POST
DVD Watch, DVDanger, Motivational Growth, In the House of Flies, Late Phases, Fear Clinic, Green Street Hooligans: Underground
MORE IN THE ARCHIVES