Chronicle Recommends: Short Story Films
Small stories find their Hollywood ending
Every month, the Chronicle's film critics select a theme and offer movie recommendations. In honor of the winners of The Austin Chronicle's 2015 Short Story Contest, we'd like to tip our hats to the many short stories that over the years have served as the foundations for feature films.
The Killers (1946) & The Killers (1964)
The short story so nice, Hollywood remade it twice: Ernest Hemingway's "The Killers" is a fatalistic tale about a boxer who waits submissively in his hotel room for hit men to arrive and kill him. Robert Siodmak directed it in 1946, with stars Burt Lancaster and Ava Gardner, and turned it into a dandy film noir that expands on Hemingway's story. In 1964, Don Siegel took a similar route with his film version, which stars Lee Marvin, Angie Dickinson, John Cassavetes, Clu Gulager, and Ronald Reagan (in his last screen role – and as a villain, no less). Meant to air as the first made-for-TV movie, the release plans changed in the wake of JFK's assassination in 1963. – Marjorie Baumgarten
The Quiet Man (1952)
John Wayne appeared in two dozen John Ford films, most of them Westerns, but this Irish-set romantic drama may be his best. It was loosely based on Maurice Walsh's short story, first published in 1933 in The Saturday Evening Post. The sexual politics haven't aged well, but the Duke sure knew how to kiss a girl. – Kimberley Jones
Don't Look Now (1973)
Based on the short story by Daphne du Maurier, this Nicolas Roeg thriller about a grief-stricken couple (Donald Sutherland and Julie Christie) in Venice was controversial for its graphic sex scene. It has since been (rightly) recognized for its innovative editing and canny use of flashbacks and flash forwards. – Josh Kupecki
The Illustrated Man (1969)
"From the wild Ray Bradbury" ballyhooed the advertising for this panned-yet-underrated triptych based on the devoutly humanist sci-fi author's book of short stories. Wild indeed, and woolly, too, with a boozy Rod Steiger in the title role as a wanderer searching for the slinky, ink-slinging witch (Claire Bloom), whom he loves and despises. Since each tattoo on the character's body births its own story (Bradbury's "The Veldt," "The Long Rain," and "The Last Night of the World"), this benefits from a surrealistic '69 vibe, with method-man Steiger aching to be all over space/time. Cinematographer Philip Lathrop (Boorman's Point Blank) makes it all worthwhile. – Marc Savlov
A note to readers: Bold and uncensored, The Austin Chronicle has been Austin's independent news source for over 40 years, expressing the community's political and environmental concerns and supporting its active cultural scene. Now more than ever, we need your support to continue supplying Austin with independent, free press. If real news is important to you, please consider making a donation of $5, $10 or whatever you can afford, to help keep our journalism on stands.
READ MORE
More Film
How the dancer made the leap to action star
Richard Whittaker, June 7, 2018
Celebrate May the Fourth away from a galaxy far, far away
Chronicle Film Staff, May 3, 2018
More by Chronicle Film Staff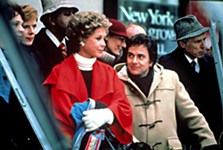 Our top picks for holiday movies with a twist
Dec. 6, 2018
Our recommendations of the finest movies from and about the ATX
Nov. 4, 2018
KEYWORDS FOR THIS POST
Film, The Killers (1946), The Killers, The Quiet Man, Don't Look Now, The Illustrated Man, Chronicle Recommends
MORE IN THE ARCHIVES