One in a Crowd: Peace Officer
SXSW documentary on police violence needs finishing funds
The law was William "Dub" Lawrence's life. The sheriff of Davis County in Utah, he founded his office's SWAT unit. Three decades later, he had a new investigation: finding out why that very SWAT team killed his son-in-law, Brian Wood.
His struggles, and the larger question of the militarization of U.S. police forces, are at the core of new documentary Peace Officer. A collaboration between two associate professors in documentary film, Scott Christopherson at St. Edward's and Brad Barber at Brigham Young, it explores the drivers behind the 15,000% increase in SWAT raids since the late 1970s. It's a chronicle of federal grants that pay for military surplus equipment for small-town police departments, and a tale of deaths that Lawrence is convinced could and should have been avoided.
The film has already been accepted into SXSW 2015. Yet that's only the first step to getting the story out there, so the producers have launched a Kickstarter campaign to crowdfund the next step in the process. The funds raised will go to pay the crew members who took deferred salaries because they believed in the mission, while the duo still needs to pay for promotion and distribution costs. You can contribute via their Kickstarter campaign page, and find out more about the film at www.peaceofficerfilm.com.
So how have previous recent crowdfunding campaigns we've featured done? Here are some quick updates:
• Good news for three campaigns from local female creators: Karen Skloss' prom horror The Honor Farm busted through its $50,000 target with almost $6,000 to spare (standard disclaimer: Chronicle editor Louis Black is an executive producer on this project); Nyk Petta got the cash together to re-animate her undergraduate series The Adventures of Dr. Blah-kman & Mr. Meow; and Juanita Butler can make more episodes of her sketch comedy web series, The Juani Begood Show.
• Gorgeous-looking throwback fantasy game Children of Morta from Austin's Dead Mage Studio still has six days to go, but it's already broken its $65,000 goal, and is now on track for a stretch goal for development funds for a Playstation 4 port.
• A double-whammy from back in January: Paper Cuts, which brings together some of the team from local horror Meet Me There (see "Meet Me There Meets Horror Halfway"), is practically halfway to its $15,000 goal with less than 24 hours to go. So maybe some backers who were hoping to get hilarious New Zealand vampire mockumentary What We Do in the Shadows on to American screens might want to redirect their cash, since Jemaine Clement and Taika Waititi's SXSW 2014 hit has made its ambitious $400,000 target.
• With just over a month to go, one of the most important film restoration projects in recent years is over halfway to its target, with Pioneers of African-American Cinema.
---
One in a Crowd is a series intended to showcase Texas film and tech projects that are crowdfunding their way to a goal, be it distribution, a prototype, or production costs. If you have a project that we should know about, email us at filmflam@austinchronicle.com.
A note to readers: Bold and uncensored, The Austin Chronicle has been Austin's independent news source for over 40 years, expressing the community's political and environmental concerns and supporting its active cultural scene. Now more than ever, we need your support to continue supplying Austin with independent, free press. If real news is important to you, please consider making a donation of $5, $10 or whatever you can afford, to help keep our journalism on stands.
READ MORE
More One in a Crowd
Help this local short about feeling out of place raise essential funds
Richard Whittaker, Dec. 4, 2019
Keep the tapes rolling at Austin's VHS and DVD institution
Richard Whittaker, May 23, 2019
More Peace Officer
Peace Officer documents the rise of police militarization
Richard Whittaker, Oct. 9, 2015
More by Richard Whittaker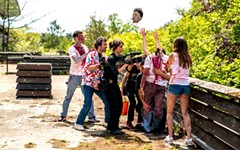 French remake of beloved Japanese movie-making comedy adds a little
Sept. 30, 2022
Wall-to-wall Godzilla in the new show, opening tonight
Sept. 30, 2022
KEYWORDS FOR THIS POST
One in a Crowd, Peace Officer, Kickstart Your Weekend, crowdfunding, Kickstarter, Dub Lawrence, Scott Christopherson, Brad Barber
MORE IN THE ARCHIVES