Chronicle Recommends: Makeover Films
A new year, and a new you
Every month, the Chronicle's film critics select a theme and offer movie recommendations. A new year means new beginnings, and in that spirit, we're highlighting some of our all-time favorite makeovers in film.
Ninotchka (1939)
Under the influence of Champagne, a frivolous hat, and the City of Lights, Greta Garbo goes from humorless Communist apparatchik to a giggling woman in love. It's the movie that made headlines: "Garbo Laughs!"
– Kimberley Jones
The Long Kiss Goodnight (1996)
This Renny Harlin effort stars Geena Davis (the director's then-wife) as a charmingly mild suburban housewife who discovers she's been made over into that role from a far different archetype. In Davis' quest for identity, this film does so many things right, it's not clear as to where it goes so wrong. Still, it's an awful lot of fun in the process. – Louis Black
Altered States (1980)
How about a genetic makeover? Watch William Hurt as he transforms from arrogant professor to primitive man (and primordial matter) in his attempt to unlock the secrets of the mind via hallucinogenics and sensory deprivation, all under the delirious direction of madman Ken Russell.
– Josh Kupecki
Glen or Glenda (1953)
Say what you will about Ed Wood's directorial capabilities, this wild and woolly (as in angora) remains one of the very first trans-positive movies ever committed to celluloid. Originally titled
I Changed My Sex!
, the famously cross-dressing director plays the camp-tastic title role while an aging and opiate-addicted Bela Lugosi narrates from a batty living room set.
– Marc Savlov
Victor Victoria (1982)
What was it about 1982 that saw the release of these two cross-dressing gender-benders? In
Tootsie
, Dustin Hoffman plays an actor who dresses as a woman to get a role in a soap opera; and in
Victor Victoria
, Julie Andrews is a singer who disguises herself as a male in order to get work as a female impersonator.
– Marjorie Baumgarten
A note to readers: Bold and uncensored, The Austin Chronicle has been Austin's independent news source for over 40 years, expressing the community's political and environmental concerns and supporting its active cultural scene. Now more than ever, we need your support to continue supplying Austin with independent, free press. If real news is important to you, please consider making a donation of $5, $10 or whatever you can afford, to help keep our journalism on stands.
READ MORE
More Film
How the dancer made the leap to action star
Richard Whittaker, June 7, 2018
Celebrate May the Fourth away from a galaxy far, far away
Chronicle Film Staff, May 3, 2018
More by Chronicle Film Staff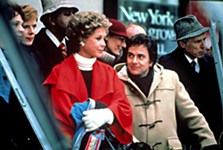 Our top picks for holiday movies with a twist
Dec. 6, 2018
Our recommendations of the finest movies from and about the ATX
Nov. 4, 2018
KEYWORDS FOR THIS POST
Film, The Long Kiss Goodnight, Ninotchka, Altered States, Glen or Glenda, Victor Victoria, Chronicle Recommends
MORE IN THE ARCHIVES