Chronicle Recommends: Family Dysfunction Films
Because the holidays aren't all about happiness and good cheer
Every month, the Chronicle's film critics select a theme and offer movie recommendations. For December, we're celebrating our favorite movies featuring family dysfunction at the holidays.
A Christmas Tale (2008)
Family dysfunction's just sexier in French, n'est-ce pas? Arnaud Desplechin's midwinter night's dream enlivens a tough story about family estrangement with fairy-tale iconography, a wicked sense of humor, and an astonishingly good cast. Vitriol meets feel-good, makes sweet music. – Kimberley Jones
Silent Night, Deadly Night III: Better Watch Out! (1989)
Directed by cockfightin', two-lane blacktopped auteur Monte Hellman, this truly strange entry into the popular Santa-slays franchise puts the fun in dysfunctional and then some. Bill Moseley sports a Devo-esque cranial prosthetic – madcap! – as the familial psycho killer Rick, who just wants to go home for the holidays. For his part, Hellman has stated that he believes this to be some of his best work ever. We concur. – Marc Savlov
Metropolitan (1990)
In Whit Stilmman's first film, spend some time basking in the glow of a Manhattan all dressed up for the holidays, as you get an intimate look into the lives of wealthy debutantes endlessly discussing life, love, and socialist farming methods. The decline of the "urban haute bourgeoisie" has never been this entertaining. – Josh Kupecki
All That Heaven Allows (1955)
No Christmas gift is sadder than the TV set wrapped in a bright red bow that the grown children of the widow (played by Jane Wyman) buy her in order to distract her interest away from her handsome young gardener (Rock Hudson). Her reflection in the TV's glass breaks the heart. – Marjorie Baumgarten
The Thin Man (1934)
I'm cheating here and I don't care. I'm sure the drive for a dysfunctional family holiday celebration is more appropriately something like Charles Kaufman's Mother's Day, the first Troma film I ever saw. The holiday here is Christmas but the cheat is that though the victim (the titular Thin Man, actually) has a damn sweet, totally dysfunctional family, the film features as its leads one of the sanest couples in the annals of Hollywood in Nick and Nora Charles. Dashiell Hammett's novel was turned by director W.S. Van Dyke and screenwriters Albert Hacket and Frances Goodrich into one of the finest screwball comedies. On the off chance you haven't seen it, you really should, and if you have, I'm betting, for a lot of you that reading about it makes you want to see it again. – Louis Black
A note to readers: Bold and uncensored, The Austin Chronicle has been Austin's independent news source for over 40 years, expressing the community's political and environmental concerns and supporting its active cultural scene. Now more than ever, we need your support to continue supplying Austin with independent, free press. If real news is important to you, please consider making a donation of $5, $10 or whatever you can afford, to help keep our journalism on stands.
READ MORE
More Film
How the dancer made the leap to action star
Richard Whittaker, June 7, 2018
Celebrate May the Fourth away from a galaxy far, far away
Chronicle Film Staff, May 3, 2018
More by Chronicle Film Staff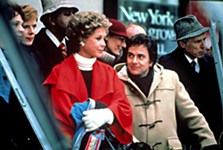 Our top picks for holiday movies with a twist
Dec. 6, 2018
Our recommendations of the finest movies from and about the ATX
Nov. 4, 2018
KEYWORDS FOR THIS POST
Film, Silent Night, Deadly Night III: Better Watch Out!, Metropolitan, A Christmas Tale, All That Heaven Allows, The Thin Man, Chronicle Recommends
MORE IN THE ARCHIVES