Chronicle Recommends: Bird Movies
Let us give you the bird
Every month, the Chronicle's film critics select a theme and offer movie recommendations. In honor of Thanksgiving, we pick some of our favorite bird movies.
The Maltese Falcon (1941)
Brush up on how plot MacGuffins work with this supreme example of the technique, in which an object or goal that drives the plot is ultimately inessential to the narrative. Humphrey Bogart as Dashiell Hammett's Sam Spade with various unsavory characters – all of whom want to get their hands on a priceless statuette. – Marjorie Baumgarten
Three Caballeros (1944)
In this semi-hallucinatory, animated celebration, Donald Duck fi nds out about Brazil from parrot Zé Carioca and Mexico from charro rooster Panchito. Made as a World War II outreach to promote the relationship of the U.S. with nations to the south, it's a relentless assault of color, music, and national symbols. – Louis Black
Brewster McCloud (1970)
Altman's riff on the Icarus myth is a funny and poignant phantasmagoria of American society in the late Sixties. All of Altman's signature stylistics (large, ensemble cast; overlapping dialogue; highly mobile camerawork) are present here. Shot in Houston and the Astrodome, this is an uncompromising film from one of the great American iconoclasts. – Josh Kupecki
Condorman (1981)
Look, nobody's arguing this movie is actually any good. But it is a perfect time capsule of Disney live-action doofiness, with Commie panic and a pre-Phantom of the Opera Michael Crawford playing spy games with that legendary souse, Oliver Reed. – Kimberley Jones
Blood Freak (1972)
This is an utterly unhinged, no-budget mashup of drug-happy hippies, dodgy experimental doings at a poultry farm, pro-Christian proselytizing, and a hunky, Elvis-coined 'Nam vet who transforms into a bloodthirsty were-turkey after ingesting a proto-GMO fowl. – Marc Savlov
A note to readers: Bold and uncensored, The Austin Chronicle has been Austin's independent news source for over 40 years, expressing the community's political and environmental concerns and supporting its active cultural scene. Now more than ever, we need your support to continue supplying Austin with independent, free press. If real news is important to you, please consider making a donation of $5, $10 or whatever you can afford, to help keep our journalism on stands.
READ MORE
More Film
How the dancer made the leap to action star
Richard Whittaker, June 7, 2018
Celebrate May the Fourth away from a galaxy far, far away
Chronicle Film Staff, May 3, 2018
More by Chronicle Film Staff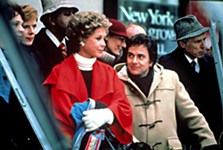 Our top picks for holiday movies with a twist
Dec. 6, 2018
Our recommendations of the finest movies from and about the ATX
Nov. 4, 2018
KEYWORDS FOR THIS POST
Film, Three Caballeros, Brewster McCloud, The Maltese Falcon, Condorman, Blood Freak, Chronicle Recommends
MORE IN THE ARCHIVES