Rooster Teeth's RWBY Gets Official Game
Plus the web anime hit unleashes the volume two trailer
If you read this week's story about local gamer/machinima gathering RTX you'll know Rooster Teeth's annual shindig is all about blurring the lines between creators and fans. There's no better example than the news that they're turning a fan-developed demo, based on their anime RWBY, into their first official game.
The game started off as a tribute by 19 year old developer Jordan Scott. It was his homage to the work of the company's lead animator and creative force Monty Oum, most especially his new series RWBY. It seems that Rooster Teeth liked it so much that now they have Scott working with Oum to turn it into their first full-fledged game, and are showing off the demo at this weekend's gathering. CEO Matt Hullum said, "We're excited about expanding the RWBY universe, and also excited that this is a project that originated as a homegrown community endeavor."
If you've never seen the web series, RWBY is an Americanized twist of the grand Japanese anime tradition of monster-hunting teens (read our review of volume one here.) The game will allow players to control each of the four key characters in a multi-player, team-based environment, wielding magical weapons across the world of Remnant.
Here's a little game play teaser that Scott released back in April:
Rooster Teeth also dropped the official trailer for the eagerly await volume two of RWBY during day one of the three day fest. Catch the season premier on July 24 at www.roosterteeth.com
---
RTX 2014 takes place July 4-6 at the Austin Convention Center. Weekend and day passes are still available. See www.rtxevent.com for ticket info and schedule. Read more about the event in this week's story, At Rooster Teeth's Annual RTX Fest, It's All About the Community.
A note to readers: Bold and uncensored, The Austin Chronicle has been Austin's independent news source for over 40 years, expressing the community's political and environmental concerns and supporting its active cultural scene. Now more than ever, we need your support to continue supplying Austin with independent, free press. If real news is important to you, please consider making a donation of $5, $10 or whatever you can afford, to help keep our journalism on stands.
READ MORE
More Rooster Teeth
New roles for longtime RT personalities as Jordan Levin becomes GM
Richard Whittaker, Sept. 24, 2019
Studio to address worker stress, conditions
Richard Whittaker, June 17, 2019
More RTX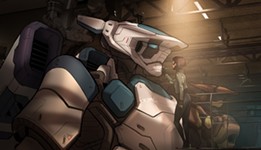 New Rooster Teeth show, Castlevania, and more
Richard Whittaker, July 17, 2017
Planet of the Apes star to deliver keynote
Richard Whittaker, June 21, 2017
More by Richard Whittaker
Mark Burg and Oren Koules look to the future of the franchise
Oct. 2, 2023
The artist subsumed by her art in chilling increments
Sept. 28, 2023
KEYWORDS FOR THIS POST
Rooster Teeth, RTX, Rooster Teeth Expo, Monty Oum, RWBY, Jordan Scott, RTX Austin 2014
MORE IN THE ARCHIVES