Spoilers Are the New Black
Are we too squeamish about our right to be shocked?
The Crying Game. The Sixth Sense. "Luke, I am your father." Film critics and fans have contended with the moral quandary of spoilers for decades. But now TV battles with the same issues more and more.
Blame Twitter for constant East Coast spoilers before the West Coast broadcast. Or blame DVRing, because just because it's Monday, that doesn't mean everyone's watched Game of Thrones yet. Maybe it's the insatiable recap culture, as touched upon at the ATX Television Festival's critics' panel on Friday.
Maybe, as Hollywood Reporter TV critic Tim Goodman suggested in Saturday's Netflix-sponsored #Spoileralert panel, there's an edge of ever-sensitivity. He's had communiques from studios about what they'd like him to keep hush-hush, and been left rolling his eyes over ridiculous minutiae. Take HBO's restrictions on Game of Thrones. "You do know there's books, right?" he asked. "It's a pre-spoiled show."
As moderator, Canadian anthropologist Grant McCracken saw spoilers as a symptom of how good TV has become. No-one cared about ruining even beloved shows like Mork and Mindy (how could they, considering if you missed the first showing, you'd be waiting years for a re-run?) But with the plethora of great dramas today, "television is no longer the idiot child of arts and letters," he said.
Viewers have a new and intense sense of ownership, because a greater diversity of outlets – broadcast, cable, Netflix, Amazon – are taking new risks, and pushing the art. However, the flipside is that, rather than dealing with a simply episodic form, the long narrative is now supreme. And therein lies the rub. McCracken said, "Once it's released on Netflix, and the whole season is available in one go, everything is fair game."
However, that's when set leaks become an issue. After all, it's OK for news to get out after the show has aired, but it's pretty mean to ruin it for everyone before the day. Sometimes, as House of Cards producer Beau Willimon explained, shows have to get pretty sneaky. When he was saving a up a major death for season two, he went to great lengths to keep the secret, even having photos of the cast member on set for later episodes, just so fans would be blindsided.
Bates Motel producer Kerry Ehrin is more sanguine about the whole issue. During her time on Friday Night Lights, she said, "We would go out into the streets and try to tell people about it." So it was a big culture shock when she started working on her current show with Carlton Cuse, who went right through the spoiler wars during his tenure on Lost. However, even now, spoilers can even be a positive, she argued – but only for the right viewers. "They can serve a function of getting the attention of and drawing in people weren't watching the show."
But what about the existing fans? As McCracken noted, they are generally respectful of each other's viewing experience (although, that said, he's currently writing an ethnographic study of how people use spoilers in the work place environment as a power play.)
For Uza Aduba (Crazy Eyes from Orange is the New Black), the experience is about coming up with a new etiquette, where "OMG" and "WTF" are the ultimate warnings that something online major is coming. Within OITNB fandom, there are even specific markers, little signs that those in the know, those that are far enough ahead in the series, can drop, and those still mid-binge won't know what's being talked about. She said, "As a culture, we came up with this coded language."
READ MORE
More ATX Television Festival
Alison Brie and Betty Gilpin on the Netflix wrestling drama
Richard Whittaker, June 23, 2017
Austin welcomes cast get-together with heartfelt "So say we y'all"
Kimberley Jones, June 12, 2017
More Netflix
Frank Grillo drives through the night
Richard Whittaker, Sept. 25, 2017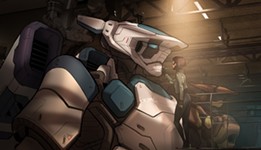 New Rooster Teeth show, Castlevania, and more
Richard Whittaker, July 17, 2017
More by Richard Whittaker
Aaron Mahnke takes smash hit folklore podcast to Amazon
Oct. 15, 2017
Vince Vaughn and Udo Kier on being the heavy
Oct. 15, 2017
KEYWORDS FOR THIS POST
ATX Television Festival, Netflix, Spoilers, Orange is the New Black, Bates Motel, House of Cards, Grant McCracken, ATX TV Fest 2014, Uzo Aduba, Kerry Ehrin, Tim Goodman, Beau Willimon
MORE IN THE ARCHIVES