Kickstart Your Weekend: The Austin Toy Museum
New collectibles archive launches fund raising with party
The founders of the Austin Toy Museum have a motto. "I had that."
Many museums start with a privately owned collection, and that's exactly the plan for the Austin Toy Museum. A group of over a dozen collectors are coming together to create a new permanent home for thousands of toys, from the 1960s to the 1980s. Their goal is simple: To have visitors come in, see an original Teddy Ruxpin, or an original 1975 Whiting Shrunken Head Apple Sculpture kit (as endorsed by Vincent Price) and say, "I had that."
After all, these are cultural artifacts, and while many people just think of them as disposable distractions for kids, they've shaped the minds and hobbies of billions of children and adults globally. For the founding collectors, this is a chance to reconnect people with those influences. Museum co-founder and director of marketing Brent Brightwell said, "Just about every serious collector I meet will say, 'I want to start a museum one day,' but not many people will act on it."
The collection exists. Now it's just the complicated process of turning it into a physical, brick and mortar museum, and that's why the group is having a Kickstarter launch party this Saturday at the Kung Fu Saloon. Brightwell said, "We've got fixtures, we've got people, we've got toys, we've got passion, we've got dioramas, we've got all the little pieces, and we know that at any moment something could be the catalyst."
Brightwell credits co-founder Caleb Zammit with being the trigger for the museum idea, and its guiding visionary. Brightwell said, "There's nothing unique and special about being able to find toys and stick them in a closet or in your garage. There's something unique and special about being able to display them and share them with others, and do some level of scholarship."
That's the important part of the museum: That the founders have been collecting and curating this material for years. Zammit admits, "I love that part of it. Buying a lot of toys, sorting them out, putting them with their correct clothing or weapons, to match everything out correctly, and then inventorizing it."
Each of the collectors brings something different. There's a Houston collector who will be contributing a large number of board games, and a GI Joe comic collector who will be part of the founding collection. Brightwell's collection focuses on the Real American Hero, the 3 3/4" Joes from the 1980s, with laser precision. When he started getting serious about collecting as a grown up, his wife encouraged him to pick one, and he went with the one that meant most to him as a kid. "Transformers was close, He-Man was nice, Star Wars was interesting, even Hot Wheels, but I had to pick one, and it was G.I. Joe."
Zammit said, "I never got that focused. I just want it all." As an autism specialist, he uses toys at work as a therapeutic tool. At his home, his private collection of 20,000 figures, sets and dioramas spreads over multiple rooms. There are the obvious franchises, like He-Man, and more obscure but recognizable ranges, like the Micronauts' Baron Karza and Andromeda, that combine to form a black armored centaur. Then there are real oddities and rarities, like the two-headed Eborsisk from Ron Howard's Willow, or a whole ranch's worth of 1960s Best of the West cowboy, pioneers, and their horses. There are even unique pieces, like an unpainted Lion-O prototype from the Thundercats range.
The collecting bug hit Zammit in 2000, when he was 20, with Star Wars, "then I moved on to Transformers and the next collection and the next collection and the next collection." He still has his Holy Grail must-haves, but like his scattershot fascinations, they are many, and they change. Right now, he said, if forced to pick, it would probably be the original Bionic Bigfoot from The Six Million Dollar Man. "He's cool, because his chest pops off and you can see all his wiring."
For Brightwell, it was the USS Flagg, GI Joe's Nimitz class aircraft carrier. At 7' 6" long, it was the biggest play set ever made. It's almost impossible to find complete, and even parts can be pricey, but that was no deterrent. "It took a while to piece it together," he said, "And then finally a firm out of Canada called Cobra Stickers started reproducing the stickers." Once it was completed, he said, "Then we got the bright idea to have a big battle scene with Transformers and G.I. Joe, so I had to start collecting all the Transformers figures that were to scale."
That project was just part of a near life-long collecting hobby. "It started when I was eight years old," he said. "That was when I had to work to save the money, go on the hunt, bring them back, not take them outside. I started displaying them, then they went into tubs, and then rabbit storage as a teenager. Then I started filling holes in my collection, buying whole collections, and upgrading."
Brightwell's habits have changed a bit since his two sons were born. Now his collection contains more contemporary franchises, like Star Wars: The Clone Wars. He said, "We buy the toys, play with them while watching the cartoon, then go get the video game and the comic, and it just became a whole immersive experience."
These are toys, after all. They're meant to be played with, and that will be true for the museum too. While many of the figures will either remain mint in box, or posed in elaborate dioramas, others will be on display to be touched and used and, yes, played with by visitors. The plan is to have duplicates around the displays, so people can remember how the plastic felt or the joints moved, even how they smell. Brightwell said, "It's the one thing I hope that the museum will be able to achieve, is a big play area."
That's what's always going to be important to Zammit. "I was letting a five year old play with some of my 40 year old Transformers the other day at the G.I. Joe convention. I was thinking, 'He could break it at any second. Why am I doing this?' Because it's fun."
The Austin Toy Museum Kickstarter launch party takes place from 8pm, April 26, at the Kung Fu Saloon, 510 Rio Grande. There will be special incentives only available to donors at the party, and the campaign will go live after that. More info at www.austintoymuseum.com and at facebook.com/austintoymuseum.
---
Kickstart Your Weekend is a series intended to showcase Texas film and tech projects that are crowdfunding their way to a goal, be it distribution, a prototype, or production costs. If you have a project that we should know about, email us at filmflam@austinchronicle.com.
A note to readers: Bold and uncensored, The Austin Chronicle has been Austin's independent news source for over 40 years, expressing the community's political and environmental concerns and supporting its active cultural scene. Now more than ever, we need your support to continue supplying Austin with independent, free press. If real news is important to you, please consider making a donation of $5, $10 or whatever you can afford, to help keep our journalism on stands.
READ MORE
More Kickstarter
Local photographer Kickstarting history of Texas Rollergirls
Richard Whittaker, June 9, 2016
Linklater's editor's film eligible for prize
Richard Whittaker, Jan. 7, 2016
More crowdfunding
Director Justin Seaman on the joy of rubber and gore
Richard Whittaker, July 14, 2016
UT institution died Monday, family raising funds for gathering
Richard Whittaker, April 14, 2016
More by Richard Whittaker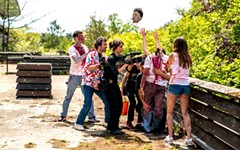 French remake of beloved Japanese movie-making comedy adds a little
Sept. 30, 2022
Wall-to-wall Godzilla in the new show, opening tonight
Sept. 30, 2022
KEYWORDS FOR THIS POST
Kickstarter, crowdfunding, Kickstart Your Weekend, Austin Toy Museum, Brent Brightwell, Caleb Zammit, Transformers, G.I. Joe, Real American Hero, Willow, He-Man, Thundercats, Lion-O, The Six Million Dollar Man, Micronauts, Baron Karza, Andromeda
MORE IN THE ARCHIVES