RTX 2014 Sends Out the Invites
Comic creator Chris Claremont, GameOverGreggy, and "RWBY" season two
Machinima monsters Rooster Teeth like a good party as much as anyone, and so they've invited comics legend Chris Claremont and internet celeb Greg Miller aka GameOverGreggy to join them at the annual RTX gaming gathering.
That's some big names for the 30,000 RT fans that are expected over the three day event, covering the first weekend of July.
Claremont is arguably one of the few true legends left in the comics industry, most notably for his unparalleled run on Marvel's Uncanny X-Men, including the ground-breaking Phoenix Saga plot. Meanwhile Miller will be hosting a live edition of his GameOverGreggy Show, while Slowbeef and Dia Betus, from the celebration of all thing "meh" that is Retsupurae, will be doing for awful video games what Master Pancake does for lousy films. Speaking of whom, the Pancake crew will be reeking their own brand of movie mayhem.
On the floor, Rooster Teeth has already confirmed 30 developers including The Behemoth, Iron Gaming, Divekick and Breakfall, creators of deranged, neon-drenched, interstellar, narwhal-on-narwhal fighting game Starwhal. Meanwhile director of business development Alan Abdine says to check back in April for "some rather massive game company participation."
And, of course, this is Rooster Teeth's house, so expect celebrations of their online empire including Halo spoof/homage Red Vs. Blue, and the world premier of season two of their smash hit American anime RWBY (read our review of season one here and our interview with series creator Monty Oum.)
RTX 2014 runs July 4-6 at the Austin Convention Center, 500 E. Cesar Chavez. Three day passes are now available via www.rtxevent.com
A note to readers: Bold and uncensored, The Austin Chronicle has been Austin's independent news source for over 40 years, expressing the community's political and environmental concerns and supporting its active cultural scene. Now more than ever, we need your support to continue supplying Austin with independent, free press. If real news is important to you, please consider making a donation of $5, $10 or whatever you can afford, to help keep our journalism on stands.
READ MORE
More Rooster Teeth
New roles for longtime RT personalities as Jordan Levin becomes GM
Richard Whittaker, Sept. 24, 2019
Studio to address worker stress, conditions
Richard Whittaker, June 17, 2019
More RTX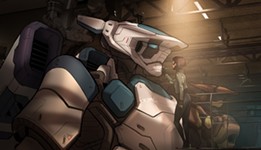 New Rooster Teeth show, Castlevania, and more
Richard Whittaker, July 17, 2017
Planet of the Apes star to deliver keynote
Richard Whittaker, June 21, 2017
More by Richard Whittaker
DC crossover one big surprise of many from the RTX panel
July 1, 2022
Phil Tippett's stop motion masterpiece of depravity and the divine
July 1, 2022
KEYWORDS FOR THIS POST
Rooster Teeth, RTX, Rooster Teeth Expo, Halo, Red vs Blue, RWBY, Monty Oum, X-Men, Uncanny X-Men, Phoenix Saga, The Behemoth, Iron Gaming, Divekick, Breakfall, Slowbeef, Dia Betus, Retsupurae, Greg Miller, GameOverGreggy, Alan Abdine
MORE IN THE ARCHIVES