SXSW Film Review: 'The Heart Machine'
Dating is complicated
By Neha Aziz, 3:51PM, Mon. Mar. 10, 2014
Do we ever really know anything about the people we meet on the internet?
The concept of dating is supremely more different in this decade than any other. Many of us do not meet organically anymore [insert quirky meet cute here]. There is online dating for essentially every age group, religion, and lifestyle (hi, Farmers Only). There are even apps for casual hook-ups based on location. The Heart Machine dives headfirst into technology-driven dating with the relationship between Cody (John Gallagher Jr.) and Virginia (Kate Lyn Sheil).
When Cody and Virginia meet each other on OkCupid, he lives in New York City and she's in Berlin. They Skype and call each other but have never physically met. The couple seem to be in it for the long haul, since Virginia is headed back to New York soon. While on their weekly Skype session, Cody hears an ambulance siren on Virginia's side, raising questions about whether she is actually in Berlin like she claims. With Facebook, Twitter, and other internet entities, Cody feeds his apprehension and paranoia to find the truth.
The Heart Machine explores an interesting case study about tech-dating, but it doesn't quite get where you want it to. When Virginia's story begins to unfold, this reviewer couldn't help but find the results a little lackluster. That being said, the film still has a deeply compelling storyline and solid performances from Gallagher and Sheil.
---
The Heart Machine
Narrative Competition, World Premiere
Thursday, March 13, 4:30pm, Rollins
A note to readers: Bold and uncensored, The Austin Chronicle has been Austin's independent news source for almost 40 years, expressing the community's political and environmental concerns and supporting its active cultural scene. Now more than ever, we need your support to continue supplying Austin with independent, free press. If real news is important to you, please consider making a donation of $5, $10 or whatever you can afford, to help keep our journalism on stands.
READ MORE
From retro horror to COVID survival, the best of the fests
Richard Whittaker, Jan. 7, 2022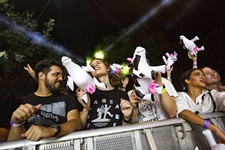 Federal program gave $130 million to over 100 local businesses
Rachel Rascoe, Oct. 22, 2021
More by Neha Aziz
A Q&A with stand-ups Akaash Singh and Paul Varghese
Sept. 24, 2021
Flat Track Coffee rolls out a new shop
May 20, 2016
KEYWORDS FOR THIS POST
South by Southwest, SXSW, SXSW 2014, SXSW Film 2014, The Heart Machine, World Premiere, Narrative Features, review, Zachary Wigon, John Gallagher Jr., Kate Lyn Sheil
MORE IN THE ARCHIVES