Elijah Wood Plays Impossible Tunes in 'Grand Piano'
Director Eugenio Mira and Wood on real time thrills and music lessons
Play like your life depends on it. That's the basic story behind Grand Piano, the new thriller starring Elijah Wood. As the actor admits, even if he had a gun aimed at him, he couldn't play the film's signature piece. But then, that's the point of the film.
It's a good week for fans of Wood. His new film, techno-thriller Open Windows, directed by Nacho Vigalando, gets its world premiere at SXSW on Monday. However, first his homage to Hitchcock, Grand Piano (coincidentally directed by Vigalondo's friend and score composer Eugenio Mira) opens in Austin this Friday.
Wood plays Tom Selznick, a concert pianist whose career came to a premature end when he choked playing an unplayable piece. Now he's returning to the stage when he gets a surprise: A note telling him to play that same piece again perfectly, or an unseen sniper will leave a perfect little hole in his head.
From the moment Selznick arrives at the venue, the entire story is told in real time: A rare challenge for both the director and the actor. After it debuted to rapturous applause at Fantastic Fest, the pair sat down to talk about the challenges of keeping the tension in a concert setting, and whether Wood could really play those notes.
Austin Chronicle Writing music for a film about music is always hard, but you set yourself a real challenge by having to write a piece that is unplayable. How impossible is it to perform?
Eugenio Mira: It's about 30% impossible. To be honest, the unplayable piece is a metaphor for the entire project. It's a crazy story to think that a character's going to be in this situation. Then when it comes to the piece itself, I'm a musician myself, I play piano, so it has to match difficult pieces that people spend years of the lives trying to execute. I dive into this, so you can measure what is going to be impossible because of our limits as human beings. Our musician Victor Reyes, when I came to him with the whole thing, he would say, 'that's impossible to do,' and I'd say, 'that's the whole point.'
Elijah Wood: The biggest challenge was the playing. I'm not a pianist. I took lessons as a child and quit, as is typical of children who get bored of practicing. I had the basics, so I knew where to put my hands, and I learned how to read music when i was younger, but I had to basically go through a crash course three weeks before going to Barcelona.
AC: So, no pressure.
EW: Yeah, no pressure. There were good days, and really awful days when I thought it was going to be an insurmountable challenge. But once we get to Barcelona and started working within the structure that we were going to be playing in, it became a lot more understandable, both physically and mentally. So much of the film was pre-rendered, because we had to stick to a very specific time code that Eugenio had worked on prior to going into production. So there was this animatic that was effectively the movie, from when he starts to play to when he leaves the stage. That was our blueprint, and we worked very specifically. It was easily the most grueling job I ever had, but also the most gratifying as well, because on a daily basis we were knocking off all these shots and our editor JL (José Luis Romeu) was cutting them into the animatics.
AC: Aside from the playing demands, the real time narrative sets you a particular challenge, because you have to carry every frame.
EW: It's funny. In a way, I never really looked at it in that regard. What was much more daunting was making the piano playing believable. When the character's so clearly defined prior to you ever seeing them sit down and play as a master pianist, this genius, I knew that it had to be at that level. So that challenge, more than carrying the weight of the film, had more of an impact on me. But I loved the idea that, when reading the script, that it was predominantly in real time, so we as the audience would experience what the character was experiencing throughout, so that's a really exciting prospect. It was a mix of those things, and also working with Eugenio. Because the script is great, and the ideas are all there, but ultimately meeting with him and understanding what his vision was for it was far more exciting.
AC In some ways, it's the polar opposite of your last film, Agnosia, because that's a film about silence.
EM: Agnosia was more about emotions. This one is more about the head and the heart, more than the soul. To me, Agnosia is an example of a thriller that is focused on emotions and the consequences of a plot, not the plot itself. this is all about the plot. It's this guy, all the pressure's on him, and there's a demigod who's dictating what he's supposed to do. After all, the bad guy in this movie wants him to play perfectly. We talked about this a lot, that every single character thinks they want the best for him, but they're really thinking of themselves.
AC You got a big coup in getting Alex Winter in the cast. After all, he's basically a director thee days, so how did you get him back?
EM I followed his career as a director, and I loved Fever, which is this thriller he made with Henry Thomas. That went to the Cannes Film Festival in 1999, and that happened to be the first year I went to Cannes. I remember that I saw a picture of the guests of the year, and I saw Alex Winter. I knew that he'd directed Freaked but I didn't know he'd directed a second feature. I wanted to see it, but I was nobody there, so when I get back to Spain I tried to find it and I rented it. When we started casting for Grand Piano, we went, 'wouldn't it be nice if we could get him?' I thought, maybe he wasn't interested in acting any more, but I talked to him director to director, and I think that was what seduced him. he was very curious, and every day, he wanted to understand, not just as an actor but as a director.
---
Grand Piano opens in Austin this weekend at the Alamo Lakeline, and is available on VOD. For screening times and our review, visit our screen calendar. For more on Open Windows, read our interview with Vigalondo and Wood here.
A note to readers: Bold and uncensored, The Austin Chronicle has been Austin's independent news source for over 40 years, expressing the community's political and environmental concerns and supporting its active cultural scene. Now more than ever, we need your support to continue supplying Austin with independent, free press. If real news is important to you, please consider making a donation of $5, $10 or whatever you can afford, to help keep our journalism on stands.
READ MORE
More Elijah Wood
Elijah Wood's thriller heads up this week's releases
Richard Whittaker, May 20, 2014
The unreleased and the oddly evasive titles from 2013
Richard Whittaker, Jan. 5, 2014
More Eugenio Mira
The Spanish filmmaker unpacks the inherent fascism of the superhero
Richard Whittaker, Dec. 17, 2022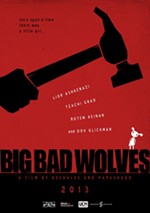 Austin's trademark genre festival goes on tour
Richard Whittaker, Oct. 21, 2013
More by Richard Whittaker
Fortune and glory awaits you at Barton Creek Square this weekend
June 1, 2023
The best movies from the Spanish and Portuguese diaspora and Indigenous peoples at the annual film festival
June 2, 2023
KEYWORDS FOR THIS POST
Elijah Wood, Eugenio Mira, Alex Winter, Grand Piano, Fantastic Fest, Alamo Lakeline, Nacho Vigalondo
MORE IN THE ARCHIVES