Film Flam
Good news for 'Hellion' and Violet Crown Cinema
By Neha Aziz, 3:33PM, Tue. Feb. 25, 2014
A new slate of indie films comes to Austin, plus the best present any cinephile could ask for in this week's Film Flam.
• If you find yourself in the gorgeous terrain of Santa Fe, N.M., and are simultaneously yearning to catch a flick at Violet Crown Cinema, in a year (hopefully), that can be a reality. Construction starts on Friday on a theatre slated to be bigger than the Second Street location. This VCC location will be home to 11 screens, seat 710 patrons, and have a cafe. Taking a page from the Austin playbook, the Santa Fe locale wants to have a prominent role in the community and hopes to participate in local festivals.
• Guess what, film fans? The Criterion Collection is showering us with some sweet lovin'. From now until 11am tomorrow, all in-stock DVDs and Blu-rays will be 50% off! Yes, really. Hurry, grab multiple copies of Citizen Kane while you still can, or browse our DVD Watch archives for other suggestions. Promo code is MADFOX.
• If South by Southwest is not your cup of tea, the fifth annual RxSM Self-Medicated Film Expo has some plans for you. In one week, 131 films from 21 countries will screen across four venues. RxSM gives out 17 film awards and offers each award-winning project the opportunity to screen at the Victoria Texas Independent Film Festival in April. In order to enjoy this indie film goodness, you must RSVP for each day the event is held. Other highlights include meet and greets, beverages, and a Q&A with Luke Wilson and Andy Wilson. Make your custom schedule through Festival Genius.
• Hellion first premiered in January at the Sundance Film Festival and now Sundance Selects has acquired the North American rights and will release the film in theatres and on VOD later this year. You can also catch Kat Candler's hell-raising movie at South by Southwest. The film stars Aaron Paul, Juliette Lewis, and newcomer Josh Wiggins. Read our quick review of Hellion here. Congrats to Candler and the cast and crew on this big news.
---
Got tips? Email filmflam@austinchronicle.com.
A note to readers: Bold and uncensored, The Austin Chronicle has been Austin's independent news source for almost 40 years, expressing the community's political and environmental concerns and supporting its active cultural scene. Now more than ever, we need your support to continue supplying Austin with independent, free press. If real news is important to you, please consider making a donation of $5, $10 or whatever you can afford, to help keep our journalism on stands.
READ MORE
From retro horror to COVID survival, the best of the fests
Richard Whittaker, Jan. 7, 2022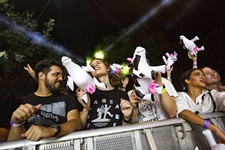 Federal program gave $130 million to over 100 local businesses
Rachel Rascoe, Oct. 22, 2021
More by Neha Aziz
A Q&A with stand-ups Akaash Singh and Paul Varghese
Sept. 24, 2021
Flat Track Coffee rolls out a new shop
May 20, 2016
KEYWORDS FOR THIS POST
Film Flam, Santa Fe, Violet Crown Cinema, New Mexico, Hellion, Kat Candler, Aaron Paul, South by Southwest, Sundance Film Festival, SXSW, Criterion Collection, sale, Citizen Kane
MORE IN THE ARCHIVES