Rooster Teeth Goes Good Samaritan
Gus and Burnie save the day … eventually
By Monica Riese, 9:51AM, Sun. Dec. 29, 2013
It all started with a Reddit post.
About a year ago, redditor knittas posted in the Austin subreddit, asking for help jumping her car before 4pm. She offered $7 in exchange.
Maybe asking strangers on the Internet for favors isn't always the safest bet, but what with the Rooster Teeth offices being just down the way, Gus Sorola and Burnie Burns replied, saying they were on their way.
Ten man-hours, one set of jumper cables, $30 in gas, and one comedy of errors later… Here's their complete adventure, which they finally published yesterday.
And the story comes full circle, too, as their video made its way to the top of the Austin subreddit.
READ MORE
More Rooster Teeth
24-hour streaming show to raise money for Dell Children's Hospital
Richard Whittaker, Nov. 11, 2017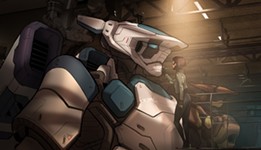 New Rooster Teeth show, Castlevania, and more
Richard Whittaker, July 17, 2017
More by Monica Riese
Paramount and Stateside programming heats up
April 3, 2014
Announcements from the Austin Film Society
April 2, 2014
KEYWORDS FOR THIS POST
Rooster Teeth, Reddit, Austin, car
MORE IN THE ARCHIVES