Perfect Day For a 'First Date'
Scatalogical SXSW short hits the web
As you ponder your Thanksgiving blowout, a salutary warning from SXSW short favorite, "First Date": What comes in, must go out.
Austin-based director Steven DeGennaro is currently hard at work on his first feature, metahorror Found Footage 3D. Produced by The Texas Chain Saw Massacre co-creator Kim Henkel, the first test footage promises to kick some life into two increasingly moribund forms of the art.
However, the local director made his first real splashes in the bowl earlier this year with "First Date". It's a bowel-rippling gross out comedy about a boy (Jimmy Gonzales), a girl (Victoria Eisele), and that terrible moment of realization about the shortcomings of the modern toilet roll. After ripping through the DC Short Film Festival as the audience award winner, it premiered in Austin as part of the Austin Film Society showcase at SXSW. And now it gets to deliciously soil your screens.
Warning: Do not watch while eating chocolate pudding, pumpkin pie filling, or pretty much anything.
A note to readers: Bold and uncensored, The Austin Chronicle has been Austin's independent news source for over 40 years, expressing the community's political and environmental concerns and supporting its active cultural scene. Now more than ever, we need your support to continue supplying Austin with independent, free press. If real news is important to you, please consider making a donation of $5, $10 or whatever you can afford, to help keep our journalism on stands.
READ MORE
More Steven DeGennaro
The Honor Farm, Found Footage 3D coming home
Richard Whittaker, Oct. 8, 2017
Watch out Chicago (and Montreal, and Edinburgh, and London)
Richard Whittaker, July 17, 2016
More Kim Henkel
Horror-comedy offering Texas Chain Saw rarity among incentives
Richard Whittaker, Oct. 17, 2014
Gunnar Hansen signing "Chain Saw Confidential" at Bookpeople Sunday
Richard Whittaker, Sept. 28, 2013
More by Richard Whittaker
Telling a love story without the "I love you"
Oct. 7, 2022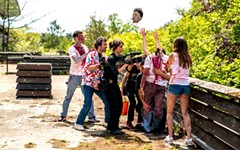 French remake of beloved Japanese movie-making comedy adds a little
Sept. 30, 2022
KEYWORDS FOR THIS POST
Steven DeGennaro, Kim Henkel, SXSW, Found Footage 3D, First Date, Jimmy Gonzales, Victoria Eisele, DC Short Film Festival
MORE IN THE ARCHIVES