The Animals are Coming: 'You're Next' Early Screening
Stars AJ Bowen and Barbara Crampton coming to town
It's been nearly two years since home invasion thriller You're Next blew the doors down at Fantastic Fest 2011. Finally, the wait is over and it arrives in cinemas on August 23. However, the Alamo Drafthouse is holding a special preview screening on August 12 with stars AJ Bowen and Barbara Crampton in attendance.
You're Next is a bare-knuckle smash-up of action and art house: Written by Simon Barrett and directed by Adam Wingard (of VHS, VHS2 and A Horrible Way to Die) and starring their regular collaborators Bowen, Joe Swanberg (Drinking Buddies, Ti West (The Innkeepers) and Amy Seimetz (Sun Don't Shine, Upstream Color, plus Australian bundle of energy Sharni Vinson and modern godmother of horror Crampton (Re-Animator, From Beyond, The Lords of Salem.)
And if a sneak peak with two of the stars wasn't enough, the Drafthouse is offering a VIP badge for Fantastic Fest 2013. All you have to do to get it is to beat everyone else through a special obstacle course, in honor of the film's domestic death trap theme. Of course, we're expecting that it will be a little less deadly than the movie.
---
Advance screening of You're Next, Aug. 12, Alamo Slaughter Lane: Obstacle course 6pm, screening 7pm. Tickets free via EventBrite. Details here, and you can RPSP via Eventbrite here. Sign up for the obstacle course here.
A note to readers: Bold and uncensored, The Austin Chronicle has been Austin's independent news source for over 40 years, expressing the community's political and environmental concerns and supporting its active cultural scene. Now more than ever, we need your support to continue supplying Austin with independent, free press. If real news is important to you, please consider making a donation of $5, $10 or whatever you can afford, to help keep our journalism on stands.
READ MORE
More Alamo Drafthouse
Alamo heads to the great outdoors for Sleepaway Camp
Marc Savlov, May 11, 2018
Update: Faraci resigns, company to begin employee outreach
Richard Whittaker, Sept. 13, 2017
More Alamo Slaughter Lane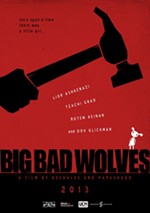 Austin's trademark genre festival goes on tour
Richard Whittaker, Oct. 21, 2013
Genre festival moving to newest, biggest Alamo
Richard Whittaker, May 10, 2013
More by Richard Whittaker
Fantastic Fest veteran gets carnal and cosmic in this H.P. Lovecraft adaptation
Sept. 22, 2023
AGFA Creative Director Joseph A. Ziemba goes bugnuts with this year's restorations
Sept. 22, 2023
KEYWORDS FOR THIS POST
Alamo Drafthouse, Alamo Slaughter Lane, Sharni Vinson, Joe Swanberg, Ti West, AJ Bowen, You're Next, Barbara Crampton, Special Screenings, Fantastic Fest, Eventbrite
MORE IN THE ARCHIVES