'Klown' on the Small Screen
Drafthouse distributing deranged Danish sitcom
Heartbreaking documentaries. Searing social commentaries. Oscar-nominated dramas. Drafthouse Films has released them all. Now the distribution arm of the Alamo empire is dipping its toe into TV sit coms with the US release of Danish comedy Klown.
Starring Danish comedians Frank Hvam and Casper Christensen, Klown is a catalog of disasters as the pair wreak absent-minded carnage on their friends and families. Imagine a much more obscene Curb Your Enthusiasm, and you're getting close.
Explaining the show's 'nothing's shocking' philosophy, Hvam said, "We made a list of 20 taboos, from racial issues to cannibalism to pedophilia to cancer; all kinds of terrible things." That quickly became Klown's series bible.
Drafthouse released the movie of the series last year, and they've put the whole 60 episode run on Hulu right now. The show will be released for download on July 23, and is available for pre-order via www.klown.tv: You can buy the whole 60 episode run for $59.99, each season separately for $19.99, or for the same price there's a 10 episode best-of collection curated by Hvam, Christensen and Drafthouse Films.
If you'd like to sample the wonderful suburban cringe of the show before you jump in, there's two ways. You can either buy the movie that wrapped up the whole story (available now on Blu-ray and DVD), or you can download one episode for free, titled 'It's A Jungle Down There.' Did we mention it's the episode penned by everyone's favorite Danish misanthrope Lars von Trier? Well, it is.
---
Klown is available through Hulu and Hulu Plus, and for direct download via www.klown.tv on July 23. Read our original review of the movie here, and our interview with Hvam and Christensen.
A note to readers: Bold and uncensored, The Austin Chronicle has been Austin's independent news source for over 40 years, expressing the community's political and environmental concerns and supporting its active cultural scene. Now more than ever, we need your support to continue supplying Austin with independent, free press. If real news is important to you, please consider making a donation of $5, $10 or whatever you can afford, to help keep our journalism on stands.
READ MORE
More Drafthouse Films
Multiple monsters, sequels, and regulars (and RZA)
Richard Whittaker, Sept. 7, 2016
The Handmaiden, Sadako vs. Kayako in wave two
Richard Whittaker, Aug. 25, 2016
More Alamo Drafthouse
Alamo heads to the great outdoors for Sleepaway Camp
Marc Savlov, May 11, 2018
Update: Faraci resigns, company to begin employee outreach
Richard Whittaker, Sept. 13, 2017
More by Richard Whittaker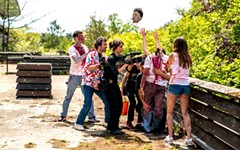 French remake of beloved Japanese movie-making comedy adds a little
Sept. 30, 2022
Wall-to-wall Godzilla in the new show, opening tonight
Sept. 30, 2022
KEYWORDS FOR THIS POST
Drafthouse Films, Alamo Drafthouse, Hulu, Klown, Klovn, Casper Christensen, Frank Hvam
MORE IN THE ARCHIVES