It's a Monster: Alamo Confirms Lakeline Sighting
Biggest Drafthouse ever to open in July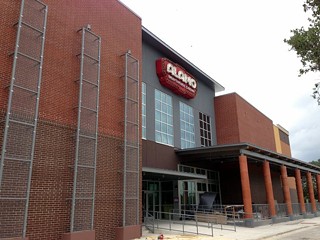 North Austin film lovers and Fantastic Fest fans rejoice! The Alamo Drafthouse has confirmed that Alamo Drafthouse Lakeline will open in July. The 944-seat, 10-screen, purpose-built cinema will be the biggest theater in the locally based chain.
That's good news for anyone making plans to attend Fantastic Fest, the Drafthouse's annual celebration of all things weird and wonderful. The September gathering had been relocated from Alamo South Lamar while that site is being renovated. The July opening means plenty of times to work out any kinks and issues.
By the numbers:
– 944 seats
– 10 screens
– Each screen will have Sony 4K Digital Projection and Dolby digital surround
– Two screens with RealD 3-D projection
– One screen set up for 35mm
– 3,000 square foot kitchen upstairs
– 32 beers on tap at the Glass Half Full Taproom. This will be the beer-centric equivalent to Alamo Slaughter Lane's tequila-tinged 400 Rabbits (there are already Glasses Half Full at their sites in Littleton, Col., and Loudon, Virginia.)
And the big number: Zero, as in no front row. As part of the Drafthouse's 'no bad seats' commitment, there's no neck-cricking seats right under the screen.
The big question, of course, is what exactly this means for the nearby Alamo Lake Creek. The official Drafthouse line is that there will be no changes, and the older site already has screenings booked through to July 10.
No word on the exact date or programming details for Lakeline yet, but the Drafthouse is hiring kitchen staff, bartenders and servers now. Go to www.drafthouse.com/careers for details and job openings.
READ MORE
More Alamo Drafthouse
Austin mayor is your letter-writing superhero
Richard Whittaker, June 1, 2017
All-female screenings to expand nationwide
Richard Whittaker, May 25, 2017
More Alamo Drafthouse Lakeline
Alamo Drafthouse chef mines flavors of foodie film
Virginia B. Wood, Aug. 12, 2014
Brewery sharing some rare brews at film fest
Chase Hoffberger, April 25, 2014
More by Richard Whittaker
Alison Brie and Betty Gilpin on the Netflix wrestling drama
June 23, 2017
The district is considering bringing a $1 billion bond to voters in November. That's a lot of money. What would it do? And can the package keep everybody happy?
June 23, 2017
KEYWORDS FOR THIS POST
Alamo Drafthouse, Alamo Drafthouse Lakeline, Alamo Drafthouse Lake Creek
MORE IN THE ARCHIVES