Rooster Teeth Marks Tenth Birthday With Fireworks
Because everyone deserves a slo-mo "Nooooooo" moment
What's cooler than firecrackers? If you ask Rooster Teeth, they'll tell you. Get a couple of British guys setting off firecrackers, and then record the joy at 2,500 frames per second.
The local gaming and animation house is celebrating its 10th anniversary the way any sensible 10-year-old would: with fireworks. In honor of their anniversary, they have hired Gavin Free and Daniel Gruchy aka the Slow Mo Guys to use firecrackers – or, as the British call them, bangers – to blow up everyday small household objects in an event they've dubbed Banger Week.
The Slow Mo Guys aren't just any two schmoes with a nice camera and a bunch of fireworks. Free, who directed Red vs. Blue: Recreation and Red vs. Blue: Relocated for Rooster Teeth, provided the slo-mo camera work for Sherlock Holmes: A Game of Shadows, Snow White and the Huntsman, Dredd 3D, and part two of Edgar Wright, Simon Pegg, and Nick Frost's Three Flavours Cornetto trilogy, Hot Fuzz.
First up, the guys 'splode a Peruvian fertility symbol (or, as they put it, "a weird dick guy").
Tuesday's sacrifice to the firecracker joy was a bowl of cereal and some orange juice, and the guys will be devastating innocuous household objects all week. Remember, kids, do not try this at home, but do check in at www.roosterteeth.com
A note to readers: Bold and uncensored, The Austin Chronicle has been Austin's independent news source for over 40 years, expressing the community's political and environmental concerns and supporting its active cultural scene. Now more than ever, we need your support to continue supplying Austin with independent, free press. If real news is important to you, please consider making a donation of $5, $10 or whatever you can afford, to help keep our journalism on stands.
READ MORE
More Rooster Teeth
New roles for longtime RT personalities as Jordan Levin becomes GM
Richard Whittaker, Sept. 24, 2019
Studio to address worker stress, conditions
Richard Whittaker, June 17, 2019
More by Richard Whittaker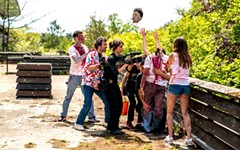 French remake of beloved Japanese movie-making comedy adds a little
Sept. 30, 2022
Wall-to-wall Godzilla in the new show, opening tonight
Sept. 30, 2022
KEYWORDS FOR THIS POST
Rooster Teeth, The Slow Mo Guys, Banger Week, Gavin Free, Daniel Gruchy
MORE IN THE ARCHIVES