Lars Nilsen Joins Austin Film Society
Drafthouse programmer bolsters AFS team, plus new Marchesa home
Wednesdays have always been Lars Nilsen's day, and today is no exception: The Austin Film Society has just announced that the Alamo Drafthouse institution and Weird Wednesday has joined their programming team. And it's a big Wednesday for AFS too, as they sign a new deal with the Marchesa Hall & Theatre.
The doyen of trash cinema (and we mean that in the most reverential way possible) recently announced that he was stepping away from the Drafthouse after a decade and a half. Now he brings that encyclopedic knowledge of film arcana (and the skills to get the lost and abandoned back on screens) to the AFS programming team. "We're going to have fun!", he wrote in a press release today. "Austin is already one of the movie capitals of the world and with a little luck and a lot of hard work the years ahead will constitute a golden age of filmgoing for our community."
Calling Nilsen one of the Austin film community's "most cherished and gifted curators", AFS artistic director Richard Linklater said, "This is a very special moment for AFS, and we look forward to working with Lars to continue the exceptional programming he has offered for years at the Drafthouse."
And don't worry, insomniacs and lovers of z-grade cinema: Nilsen will continue to host Weird Wednesday and help the Drafthouse in an advisory capacity.
As for the new agreement with the Marchesa, with a new Dolby sound system and 35mm projector, it will become the new home to AFS Cinematheque at the Marchesa, the society's archival film programming and special series. This will expand upon the existing relationships AFS has with the Drafthouse and Violet Crown (plus, with Austin Studios expanding and considering new screening rooms, the society's future as an exhibitor is looking pretty rosy).
The champagne on the new Marchesa deal will be popped for the official 20th anniversary screening of Dazed and Confused on March 6. Expect Linklater in attendance, as well as cast members Joey Lauren Adams, David Blackwell, Christin Hinojosa, Mona Lee, Anthony Rapp, Marissa Ribisi, Michelle Burke Thomas, Mark Vandermeulen and Wiley Wiggins.
For more info on the AFS, visit www.austinfilm.org. Tickets for the AFS 20th anniversary screening of Dazed and Confused are available now.
A note to readers: Bold and uncensored, The Austin Chronicle has been Austin's independent news source for over 40 years, expressing the community's political and environmental concerns and supporting its active cultural scene. Now more than ever, we need your support to continue supplying Austin with independent, free press. If real news is important to you, please consider making a donation of $5, $10 or whatever you can afford, to help keep our journalism on stands.
READ MORE
More Austin Film Society
Third edition opens with Todd Haynes' The Velvet Underground
Katherine McNevins, Sept. 14, 2021
Society offering $130,000 for emerging filmmakers
Richard Whittaker, April 3, 2018
More Alamo Drafthouse
Alamo heads to the great outdoors for Sleepaway Camp
Marc Savlov, May 11, 2018
Update: Faraci resigns, company to begin employee outreach
Richard Whittaker, Sept. 13, 2017
More by Richard Whittaker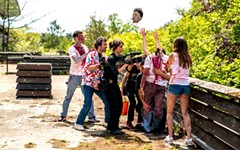 French remake of beloved Japanese movie-making comedy adds a little
Sept. 30, 2022
Wall-to-wall Godzilla in the new show, opening tonight
Sept. 30, 2022
KEYWORDS FOR THIS POST
Austin Film Society, Alamo Drafthouse, Lars Nilsen, Marchesa Hall & Theatre
MORE IN THE ARCHIVES