DVD Watch: 'Fat Kid Rules the World'
Matthew Lillard's directorial debut has a big heart
I will always like Matthew Lillard. In a fairer world, everyone would forget Wing Commander and Hackers, and just talk about SLC Punk! and how great he was in The Descendants, and his fun, respectful treatment of Scooby Doo. Maybe his transition to director will finally get him the credit he deserves.
Based on K.L. Going's award-winning young adult novel, Fat Kid Rules the World stomped home with the SXSW 2012 Narrative Feature Spotlight prize. It's Lillard dumping all the goofy hijinks that are some see as his trademark, and brings the story's quiet heart and tender soul to the fore.
Troy Billings (Jacob Wysocki of Sundance 2011 hit Terri) is a real fat kid. He's not a studio fat kid, with slightly chubby thighs. He's a young Robert Paulson, 300-and-change pounds of self-loathing who breathes heavy when he walks and gets flushed if he eats too fast. And then wannabe rock star Marcus McCray (Matt O'Leary) cannonballs into his life. While Troy is disconnected from everyone – alienated from his martinet father (Bill Campbell) and ignored by his high school peers – Marcus is a little bit too connected. That's the polite way to say he gets into fights with his band mates, sleeps with their girlfriends, and raids everyone's medicine cabinets. They're both self-destructive: The only difference is that Troy knows he is. When Marcus convinces Troy that they should become a band, the question is, will they save each other or drag each other down?
The set-up could be a bad teen comedy. Yet Lillard plugs more emotional honesty about what it means to be an outcast in the opening silent five minute montage than Lifetime will pack into a weekend of 'straight from the headlines' movies. He portrays Troy's world in what he calls "dirty pretty pictures", a subdued, shadow-shrouded pallet that tears the right pages from The Basketball Diaries. Like Jim Carroll's memoir, Fat Kid is about the male gaze and male relationships (for the most part, women are either absent or the subject of Troy's fantasies). Yet it adds depth that Carroll's self-serving 'woe is me' world view and the 1995 adaptation lack.
The disc is the definitive spartan indie release. There's about ten minutes of micro-length behind-the-scenes featurettes that feel more like out-takes, and a trailer that plays like a making-of/funding pitch. It may not be extravagant, but that actually makes it a little more punk rock. This is a passion project for Lillard, one he dragged a print around in a semi, and it was never going to be knee-deep in extras. But sometimes it's worth remembering that what you're buying is the film, and the film – as fits a debut from an actor – is driven by its lo-fi, low-key performances.
O'Leary, who stunned as the young Matthew McConaughey in the under-rated Frailty, matures again as an actor by stressing Marcus' charming but self-mutilating immaturity. Campbell fills in the blanks with astonishing subtlety, making Troy's dad a complex, compassionate figure. But it's Wysocki's film, and he really puts himself out there: The opening shot of Troy getting out of bed is all ripples and sad sighs. While it's hard not to see traces of SLC Punk here, Troy is the antithesis of Lillard's exuberant outsider Stevo. When he shows some steel under the bulk, it's done with a delicacy and honesty.
In a smart move, Lillard transfers the 'sweaty teen in a sweaty club' action from New York to the Pacific North-West. The soundtrack nails the Seattle sound, and it's not just O'Leary's Cobain-style shredded sweater. Pearl Jam's Mike McCready was the man that brought some Steve Ray Vaughan into the region's glam/grind fusion, his own well-recorded history of substance abuse is echoed in Marcus' self-destruction. (There's even a few shots were O'Leary looks a lot like another Seattle abuser, the less fortunate Layne Staley). But here his solo guitar cuts through the chemically-fueled punk of the scene. It does sonically what Lillard manages with his narrative: It adds soul where a lesser film would add yucks.
---
Also out this week:
End of Watch (Universal) David Ayer puts badges on Jake Gyllenhaal and Michael Pena before dragging them through the seedier side of SoCal (read our review here).
For a Good Time Call … (Universal) The sisterhood of the sex line: As Bridesmaids is to The Hangover, so Lori Miller and Ari Graynor provide some gender contrast to I Love You, Man (read our review here).
Hansel & Gretel: Warriors of Witchcraft (Lionsgate) Mockbuster time!
Hara-Kiri: Death Of A Samurai (Tribeca) Subtlety isn't always Takeshi Miike's stock-in trade. For his second step into bushido culture, after 13 Assassins, he risks an elegiac remake of Masaki Kobayashi's 1962 film Harakiri(read our review here).
The Imposter (Vivendi) Another SXSW 2012 alumnus, the strange tale of how a French conman convinced a San Antonio family that he was their missing son (read our review here and our interview with director Burt Layton here.)
Nature Calls (Magnolia) Yet another SXSW 2012 film, Todd Rohal's comedy brings Patton Oswalt, Johnny Knoxville and Rob Riggle to blows over how to raise a scout troupe.
Pina (Criterion) Wim Wenders' tribute to choreographer Pina Bausch was Germany's 2012 Oscar submission, as he takes her work into the wild for a unique dance experience. Is this the movie that may finally make you reconsider 3D TV? (Read our review here).
Searching for Sugar Man (Sony) What is this, SXSW 2012 revisited? Another festival favorite, Malik Bendjelloul's global hunt for the legendary/mythical musician Rodriguez opens the book on a forgotten chapter of pop history (read our review here).
Trust (Olive Films) Hal Hartley's 1990 sophomore Long Island romance finally comes to Blu-ray(read our review here).
Universal Soldier: Day of Reckoning (Sony) Scott Adkins delivers some Van Damage with this surprisingly cerebral addition to the Universal Soldier franchise (read our review here and our report from the Fantastic Fest 2012 premiere here).
A note to readers: Bold and uncensored, The Austin Chronicle has been Austin's independent news source for over 40 years, expressing the community's political and environmental concerns and supporting its active cultural scene. Now more than ever, we need your support to continue supplying Austin with independent, free press. If real news is important to you, please consider making a donation of $5, $10 or whatever you can afford, to help keep our journalism on stands.
READ MORE
Rarities set-list turns on a pair of Hispanic siblings
Raoul Hernandez, May 8, 2014
Anthony Bourdain visits Hipster Apocalypse of SXSW 2012
Virginia B. Wood, Sept. 3, 2012
More by Richard Whittaker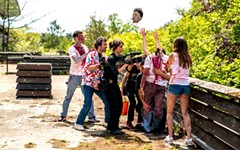 French remake of beloved Japanese movie-making comedy adds a little
Sept. 30, 2022
Wall-to-wall Godzilla in the new show, opening tonight
Sept. 30, 2022
KEYWORDS FOR THIS POST
DVD Watch, SXSW, Fat Kid Rules the World, Matthew Lillard, Mike McCready, Bill Campbell, Jacob Wysocki, Matt O'Leary, SXSW 2012, Pena, Hal Hartley, Wim Wenders, Universal Soldier: Day of Reckoning, End of Watch, For a Good Time Call, Hara-Kiri: Death Of A Samurai, Hansel and Gretel: Warriors of Witchcraft, The Imposter, Nature Calls, Searching for Sugar Man
MORE IN THE ARCHIVES