DVD Watch: When Horror Came to Shochiku
Criterion box set restores a lost corner of J-horror
Imagine a world where Twila Tharp released the Friday the 13th films. That was kind of what happened when Japan's Shochiku studio produced a handful of shocking, daring and bizarre horror films.
Shochiku is best known in the contemporary West as a sometime home to Takashi Miike and 'Beat' Takeshi Kitano (or, to anime fans as the Japanese theatrical distributors of Appleseed and Dirty Pair films). Yet the Tokyo-based studio actually began in 1895 mounting kabuki productions, before releasing a series of delicate melodramas and period pieces like Yasujiro Ozu's A Story of Floating Weeds. Yet between 1967 and 1968, they produced four horror pictures, all different in tone but melded together by a crushing sense that humanity deserves to be eradicated – whether by vampiric aliens, poisonous insects, nuclear self-destruction, or by its own brutality and selfishness.
All four finally see release as a typically gorgeous but extras-free Criterion box set. Amongst them, 1968's The Living Skeleton probably the most conventional of Schochiku's horror releases. Shot in black and white, it echoes the form of a traditional Japanese ghost story or kaidan, as restless spirits take their vengeance on the selfish living. Orphan Saeko (Kikko Matsuoka) is divided between her devotion to the Roman Catholic priest (Masumi Okada) who raised her, and her love for fisherman Mochizuki (Yasunori Irikawa). Overshadowing this dilemma is the death of her twin sister Yoriko at the hands of pirates. For Western audiences, even pre-Captain Jack Sparrow, pirates were romantic figures. For an island nation like Japan, whose sailors were often subject to the brutal savagery of the raiders of the South China Sea, there is no such cutesy delusion. When the abandoned freighter that Yuriko died upon, the Dragon King, returns to land after three years drifting at sea, somebody – or some thing – starts driving the surviving pirates to their deaths. Is it the vengeful ghost of Yoriko, or is it Saeko, determined to plunge her sister's killers into suicidal madness?
Cinematographer Masayuki Kato creates a series of images worthy of the finest kaidan: a chain gang of skeletons, bobbing together under the sea; the half-burnt face of a pirate, caught in unnerving close-up; Saeko's wide eyes, illuminated by a single candle in a darkened cabin. Amidst this, there are some undoubted European nods: The Morricone-esque harmonica and the Catholic perversions have an Italian tinge, while the final reveal of the living skeleton itself is pure Poe.
The classic creeping dread of The Living Skeleton is a polar opposite to the two films directed by Kazui Nihonmatsu that top and tail this set: 1967's The X From Outer Space and 1968's Genocide. Both are drenched in the atomic age, filled with science wonder and techno-terror. X aka Uchû daikaijû Girara is more a kaiju monster flick than moody horror. Eiji Okada (star of the eerie and erotic The Woman in the Dunes) and Peggy Neal are unconvincing astronauts who travel to Mars (via a Moon cocktail party. No. Really.) and accidentally bring a giant monster space spore back to Earth with them.
Unfortunately, Nihonmatsu seemed to spare every expense in bringing this clunky tale of interstellar rubber suits to the screen, and he has little clue what an FX-heavy film required. His atomic age future combines weird lounge wear, a clumsy romance subplot, and a sub-par monster who is ultimately defeated by being turned into space shaving fooam. Yes, there are very good reasons by Guilala didn't return to screens until 2008's satire Attack the G8 Summit. That's a shame, since his entrance – demolishing a hillside in his chaotic rampage – is a truly startling image.
It's also worth a watch with the original English language dub, which switches from elegant to clunky, especially when one of the occidental character actors is on screen. There seems to have been an almost perverse pleasure from the original dubbers in having them sound like less convincing English-speakers than the Japanese actors. Particular plaudits go to the weird lowing sound Neal makes when she is trapped under a rock.
Considering how X failed to mark the horror spot for Nihonmatsu, it's almost implausible that only a year later he managed to create Genocide (aka War of the Insects). A sweaty mix of nuclear paranoia and eco-terror, it's a Cold War allegory told from Japan's global standpoint. The backdrop of global peril allows seminal anime writer Susumu Takaku (First of the North Star, Devilman) to take his script deep into the complicated relationship between Japan and the US. Douglas McArthur's post-WWII shogunate was recent history, but then so was Japan's alliance with the Nazis, is riddled with the politics of the era. In the background, the nearby Vietnam war rumbles ominously.
When the crew of an American B52 is found dead, amateur bug hunter and petty criminal Joji (Yûsuke Kawazu) is the prime suspect. He has troubles enough of his own, trying to deceive his wife Yukari (Emi Shindo) about his affair with American entomologist Annabelle (Kathy Horan). The personal drama allows Nihonmatsu to flourish, keeping him grounded as the wholly fantastical X failed to do.
The year before, Takuku was responsible for Shochiku's most famous and important trip into terror, the surreal and psychedelic Goke, Body Snatcher From Hell. Odds are, if you've heard of any of these films, it's probably this unnerving tale of interstellar atrocity. A collaboration with The Living Skeleton's scribe Kyuzo Kobayashi, Goke is equally unrelenting in its depiction of a pitiless universe. It may be even less optimistic, opening with a jetliner in a blood red sky as the passengers talk about assassinations and global unrest. In a seeming nod to her fellow Shochiku blonde Peggy Neal, Horan stars as Mrs Neal, an American war widower among the survivors when the plane crashes in a bizarre desert. Things look bad enough when the group finds themselves at the mercies of a hijacker (Hideo Ko). But they miss his curled snarl of a smile when he becomes the vessel for a shapeless, murderous alien blob, seeping in and out of his split skull like sentient quicksilver.
Director Hajime Sato was probably the most horror-savvy of the directors in this set, with Toie's Ghost of the Hunchback and The Terror From Beneath the Sea (starring Neal and her X co-star, Teutonic science-type Franz Gruber) under his belt before Goke. He turns the besieged survivors, locked in the stranded plane, into a pack of wolves, as much a menace to themselves as any threat from outside can be. This limbo is a febrile, supersaturated hell, a locked room drama that plays out like a nihilistic gory episode of The Twilight Zone. As the corrupt politician spits, "Humanism. Just what we need."
Eclipse Series 37: When Horror Came to Shochiku (Criterion), four disc set, $59.95.
---
Also on release this week:
Sleepwalk With Me (IFC Films) Comedian Mike Birbiglia's Sundance award winning autobiographical story of his battles with somnabulism and commitment. Read our review here, and check out our interview with Birbiglia.
Death Ship (Scorpion) The Dragon King isn't the only ghostly freighter on the seas. Jack Hill may be a blacksploitation and grindhouse icon for writing Coffy and Foxy Brown, but he returned to his horror roots in 1980 when he sent Richard Crenna and George Kennedy out to sea to fight the supernatural. Fans of the wonderful Warehouse 13 should watch out for a young Saul Rubinek meeting his demise at the ghostly hands of dead Nazi sailors. Yes, you read that right. Finally available on Blu-ray.
The Good Doctor (Magnolia) Wonder if there's any coincidence that Orlando Bloom's medical thriller is headed to homes the same week he's back under the blonde wig as Legolas in The Hobbit?
Arbitrage (Lionsgate) Richard Gere embodies the worst of the 1% in this tale of hedgefunds and fraud, which became a $10 million smash on VOD. Read our review here.
Total Recall (Columbia) Robert Wiseman's new version of Philip K. Dick's We Can Remember it For You Wholesale. Reviled by fans of the Schwarzenneger/Verhoeven smash, who tend to forget that version was pretty dumb too. Read our review here.
A note to readers: Bold and uncensored, The Austin Chronicle has been Austin's independent news source for over 40 years, expressing the community's political and environmental concerns and supporting its active cultural scene. Now more than ever, we need your support to continue supplying Austin with independent, free press. If real news is important to you, please consider making a donation of $5, $10 or whatever you can afford, to help keep our journalism on stands.
READ MORE
More DVD Watch
Ted Geoghegan on blood and lessons in his historical drama
Richard Whittaker, April 19, 2018
Classical witchcraft drama gets a bleak, contemporary twist
Richard Whittaker, April 3, 2018
More Criterion
Retreads, remakes, and do-overs rule the home releases
Richard Whittaker, July 28, 2015
Samuel Fuller's White Dog comes to DVD
Marc Savlov, Jan. 14, 2009
More by Richard Whittaker
Telling a love story with the "I love you"
Oct. 7, 2022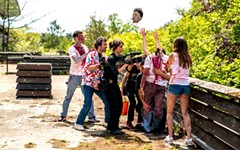 French remake of beloved Japanese movie-making comedy adds a little
Sept. 30, 2022
KEYWORDS FOR THIS POST
DVD Watch, Criterion, J-Horror, Shochiku, The Living Skeleton, Goke, Body Snatcher From Hell, The X From Outer Space, Genocide, War of the Insects
MORE IN THE ARCHIVES