AFF2012: 'Francophrenia (Or Don't Kill Me, I Know Where the Baby Is)'
In James Franco's mind, no one can hear you scream
By Marc Savlov, 9:20AM, Sat. Oct. 20, 2012
This experimental freaky geek-out-cum-comedy doc from James Franco isn't for everyone, but it does prove one thing we've been saying for years: Franco is the closest thing to another James Dean as we're ever likely going to see, in spirit and in sheer unfettered artistic ambition.
Let's back up. Earlier on Friday, the Conversation with James Franco -- moderated by Barry Josephson -- at the Stephen F. Austin Hotel Ballroom was a mob scene of under-18 squealiness, during which the actor did his best to explain his unique career path and often out-of-the-blue filmmaking and acting decisions.
It was difficult to hear his replies over the fluttering heartbeats of the heavily under-21, predominantly female audience -- plus, we were stuck way, way in the back despite having show up a good 45 minutse beforehand -- but what struck with us was Franco's cool, calm, and vaguely wacky mien; maybe this hep cat hasn't done it all, but you can bet he'll try. We like him for that, a lot.
Dean fans who've actually delved into the thousands of pages of biographical and sundry data other than the three films the cult actor actually survived to star in (Giant, East of Eden, Rebel Without a Cause) will recognize a similar quick-burning, antsy creative energy in Franco's C.V. thus far. Maybe it's a stretch, but we're going to stand behind it anyway. Like Dean, Franco has deep-down acting chops in his very marrow; to paraphrase Maila Nurmi, aka Vampira, on Dean, "He was an alien from another planet with the life-energy of a thousand other people bottled up inside him." The same goes for Franco.
Francophrenia, co-directed with documentarian Ian Olds, is a downright daring and transgressive piece of provocation, a pseudo-documentary of the days (and nights) the actor spent shooting an episode of General Hospital in 2010. Olds, whose previous work includes the terrific Iraq war doc Operation: Dreamland, cut and chopped several layers of on-set footage into a bizarro world portrait of James Franco as impish maniac, a wink-wink, nudge-nudge Patrick Bateman masquerading as James Franco in character as a art-loving serial killer. It's a very trippy film and unlikely to garner any sort of mainstream theatrical play.
Visually psyched-out with oddly appropriate digital effects, Francophrenia has the queasy-funny vibe that leaves you with the feeling that you just peered inside Franco's mind, literally.
As he stalks and/or lounges around in character and out, the multiple cameras catch and often freeze-frame unexpected close-ups of the actor scowling, staring into the frame at the audience, and generally acting weird, in an fascinating fashion. Couple this with Franco's own whispered voiceover ("How did I get here? Who are these people? Fuck, I've got to get out of here!") and you have the makings of a "documentary" Crispin Hellion Glover might even love.
Then again, as several audience members muttered on their way out of the theater, it could just be "the most masturbatory piece of shit [I've] ever seen."
We disagree. It may be a joke, in part, but it's a fairly fucking fearless one. Francophrenia is probingly intimate, startling, revelatory, and wonderfully alien. It's like something James Dean might've attempted, had he lived longer, or been born later, and it's avant-garde filmmaking at its best and most accessible.
A note to readers: Bold and uncensored, The Austin Chronicle has been Austin's independent news source for almost 40 years, expressing the community's political and environmental concerns and supporting its active cultural scene. Now more than ever, we need your support to continue supplying Austin with independent, free press. If real news is important to you, please consider making a donation of $5, $10 or whatever you can afford, to help keep our journalism on stands.
READ MORE
More AFF 2012
Lance Henriksen keens and roils with redneck angst on VOD today
Richard Whittaker, Oct. 26, 2012
A lot less chainsaw in this new Texas massacre
Richard Whittaker, Oct. 22, 2012
More Francophrenia
Billy Bob's latest, plus the ubiquitous James Franco
Kimberley Jones, Oct. 10, 2012
More by Marc Savlov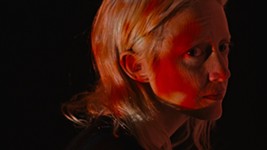 Identity melts in this psychotropic assassination brainblender
Oct. 2, 2020
Mangled Italian creature feature should be even shorter
Sept. 25, 2020
KEYWORDS FOR THIS POST
AFF 2012, aff2012, Francophrenia, James Franco
MORE IN THE ARCHIVES