DVD Watch
Thai director Pen-ek Ratanruang goes bang with a 'Headshot'
By Marc Savlov, 12:42PM, Tue. Oct. 9, 2012
I first encountered Bangkok-based bullet fetishist and "Thai new wave" director Pen-ek Ratanaruang in 2002 while binging on obscure Asian cinema at long-gone S. 1st St. video heaven Pedazo Chunk.
The film was 6ixtynin9, a dubiously packaged, indifferently transferred thriller starring the rough-edged beauty Lalita Panyopas as Tum, a woman whose workaday life is turned upside down, and then inside out, when she discovers a box of stolen loot on her doorstep. Muzzle-flashes and bloody bodies follow as the gangster owners of the illicit box of bhat-notes figure out their fuckup and come roaring after the slight but increasingly savvy Tum.
6ixtynin9 knocked me upside the head with the possibilities of Thai cinema and, in particular, Ratanruang's stylishly unstylish direction. The whole film seemed balanced on the knife edge of no-budget innovation and a muggy, claustrophobic vibe that struck me as altogether Thai, grimy locations laced with an air of tropical lassitude and dreamy violence. Who was this guy, and more importantly, what else had I missed?
Ratanruang's next mindblower, 2003's surreally languid Last Life in the Universe also invaded my head and took up residence there for a downright lengthy stay. (I'm pretty sure it's still squatting in there somewhere, in between Wong Kar Wai's Fallen Angels and pretty much everything Christopher Doyle has ever lensed. Which, fittingly, includes both Last Life… and Ratanaruang's 2006 followup, Invisible Waves.
Last Life… is the kind of film critics force on their friends late at night after everyone else has passed out. The dreamlike story of Kenji, an immaculately O.C.D. librarian (Japanese icon Tadanobu Asano) with a yen for the ultimate oblivion. He comes close, time and again, while hiding out from the yakuza in perpetually sweltering Bangkok.
Last Life… is an aphrodisiac masquerading as a narcotic pretending to be a movie about the loneliness of the long distance runner-away. Eventually, Kenji meets decidedly un-cute with Noi (the intensely intoxicating Sinitta Boonyasak), a sass-happy bar girl who promptly takes the Harold and Maudlin doomster back to her ratty-ass hell-flat only to realize neither one speaks the other's language. Their dual existential plights are related in Thaiglish with a smattering of Japanese, but this casually arty orgasm of a non-story is freakishly upended by the appearance of -- wait for it! -- Takashi Miike, who arrives in full yakuza-thug modality as the worst emotional wake-up call ever.
And just like that, the character's achey-breaky ennui is exploded, exploited, and over and done, forever. It's a testament to DP Doyle's unerring eye that his use of soggy-seeming light and sultry, magical realist shadows can evoke such a powerful sympathy -- on the audience's part -- for these two barely-there embodiments of societal flotsam.
Needless to say, Last Life… is one of those hopelessly unique experiences that will make you either swoon or gently hurl your DVD player out the window in despair at the universal tedium of it all. (My DVD player is functioning just fine, thanks.)
So how is Ratanruang's newest, Headshot (Kino Lorber, $29.95)? A crime thriller doubling as a meditation on the many disparities littered between our human perception of the world around us and our notions of the self, it's all about the "I" in "identity." Ratanruang is on record as calling Headshot a "Buddhist film noir", but that's an awfully reductionist synopsis coming from such an intellectually challenging filmmaker.
To be sure, Headshot makes good use of the standard noir tropes, and then reinvents them in particularly clever -- and wildly disorienting -- ways. Chaiyanam Nopachai is Tul, an ex-cop-turned-assassin who's received a bullet in the head, resulting in a coma. Upon waking, he finds his vision has turned upside down; it's a Memento-esque flourish that messes with his, yours, and everybody's mind. It's also a clever nod to the inescapably Buddhist nature of the story: up is down, black is white, good is evil, and Karma's a bitch.
As in 6ixtynin9 and Last Life…, Ratanruang uses genre as a means to explore the Big Ideas. (Christopher Doyle isn't pulling DP duty this time out (that gig falls to the director's frequent collaborator Chankit Chamnivikaipong), but Headshot is nonetheless gorgeous to look at, all popping Thai jungle-emeralds and saffron serenity-gone-schizo.
Which isn't to say the film's disquietingly sudden scenes of gun violence are anything less than creatively staged. They're not the point, however, nor is the upside-down conceit. Headshot is more concerned with life and the essence of redemption than it is with death and the extremely Thai focus on an all-encompassing afterlife. (Check out Apichatpong Weerasethakul's Uncle Boonmee Who Can Recall His Past Lives for a terrific dip into the Thai perspective on death and rebirth.)
Headshot works fine but it's no Last Life in the Universe. Like the Bangkok-based crime fiction of novelist John Burdett, it wrestles with itself over metaphysics and shrill, soul-nullifying violence. In the end, the answer is there is no answer.
ALSO OUT NOW:
Stephen Spielberg and Carlo Rambaldi's bug-eyed love child -- that'd be E.T. The Extraterrestrial -- arrives in an a hyperactive bells-whistles-and-probably-Reese's Pieces special Blu-Ray/DVD/Digital Copy/Ultraviolet amazedition (Universal, $34.98).
Related: If you're in a SETI state of mind, pick up Ridley Scott's Prometheus (Fox Home Video, $49.95) in its equally overstuffed/all formats edition, watch it, then spend the next twenty years wondering what the hell that was all about.
A note to readers: Bold and uncensored, The Austin Chronicle has been Austin's independent news source for almost 40 years, expressing the community's political and environmental concerns and supporting its active cultural scene. Now more than ever, we need your support to continue supplying Austin with independent, free press. If real news is important to you, please consider making a donation of $5, $10 or whatever you can afford, to help keep our journalism on stands.
READ MORE
More by Marc Savlov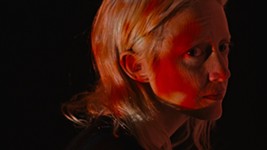 Identity melts in this psychotropic assassination brainblender
Oct. 2, 2020
Mangled Italian creature feature should be even shorter
Sept. 25, 2020
KEYWORDS FOR THIS POST
Headshot, Last Life in the Universe, 6ixtynin9
MORE IN THE ARCHIVES