SXSW Alum Peter Byck Talks Trash With Bill Maher
'Carbon Nation' director on tonight's 'Real Time With Bill Maher'
By Marc Savlov, 9:49AM, Fri. Aug. 17, 2012
One of our favorite documentary filmmakers and honorary Austinite Peter Byck will be promoting his most recent film, Carbon Nation, on Maher's HBO gabfest tonight, 9pm. Expect witty repartee, optimistic climate discussion, and Byck's ever-awesome white boy 'fro. Word.
Based out of Louisville, KY, Byck first showed up on our radar with his 1996 SXSW debut, Garbage, which followed the then-itinerant filmmaker on a quest from one end of the country to the other examining the eponymous mess. (Curiously, he met up with Billy Bragg while shooting in New Orleans. Bragg was our favorite singer-songwriter at the time. Coincidence? We think not.)
Carbon Nation is Byck's 2010 extension of the grubby theme, only with less Bragg and more bite. It's well worth checking out, and it's especially pertinent now that Austin appears to be the last green oasis in a state that's looking more and more like the Sahara every day.
A note to readers: Bold and uncensored, The Austin Chronicle has been Austin's independent news source for almost 40 years, expressing the community's political and environmental concerns and supporting its active cultural scene. Now more than ever, we need your support to continue supplying Austin with independent, free press. If real news is important to you, please consider making a donation of $5, $10 or whatever you can afford, to help keep our journalism on stands.
READ MORE
More by Marc Savlov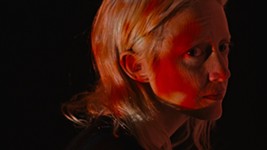 Identity melts in this psychotropic assassination brainblender
Oct. 2, 2020
Mangled Italian creature feature should be even shorter
Sept. 25, 2020
KEYWORDS FOR THIS POST
Peter Byck, Carbon Nation, Bill Maher, climate change
MORE IN THE ARCHIVES