Warfear: Paul Beck's 'Bomb' Blows Up Big Time
Austin animator creates a new short on the same old war
By Marc Savlov, 12:35PM, Mon. Aug. 6, 2012
It's been a while since we've talked to Paul Beck, the Austin-based, Latin Grammy Award-winning, Emmy-nominated animator/provocateur who, along with former co-conspirator Jason Archer, has been rotoscoping unnerving and witty political commentary since the late nineties.
Beck's latest short, A Thousand Pound Bomb, is an emotionally searing stunner. Combining downright disturbing (albeit declassified) video imagery culled from CENTCOM-shot footage of the Iraq and Afghanistan wars with Beck's (and Archer's) trademark Disney-esque characters, it perfectly captures the unnatural national zeitgeist of the moment.
Says Beck, via email, "The piece is about the never ending wars. [Right now] the video is on a mini-world wide tour of sorts. Winning hearts through body parts!"
Here's what curator Natasha Kadin of the Zagreb, Croatia NGO/arts and new media collective Mavena, had to say about da Bomb: "This video demyths the war [combining Iraq, Siria and Walt Disney. This work talks about constant revolution, about eternal media spectacle, where humans are no longer people of flesh and meat, but they are just part of the game, literally War & Game."
In keeping with the revolutionary spirit of the times (at least in Eastern Europe, where the populace isn't quite as gullible as in the U.S.), Mavena's website opens with a quote from the La Révolution surréaliste, NO.5, Paris 1925, which pretty much sums up Beck's disconcerting and truly surreal mode of artistic expression:
"…We are the revolt of the spirit; we believe that revolution is the inevitable vengeance of a spirit humiliated with your doings. We are not utopians; we can conceive this revolution only as a social form. If anywhere there are men and women who have seen a coalition form against them (traitors to everything that is not freedom, rebels of every sort, prisoners of common law), let them never forget that the idea of revolution is the best and most effective safeguard of the individual."
All art is political, of course, but we think Beck's nightmare-tinged animations intrinsically capture the essence of American obliviousness to the ongoing, daily realities of what journalist Dexter Filkins has dubbed "the forever war."
Kudos, Mr. Beck.
A note to readers: Bold and uncensored, The Austin Chronicle has been Austin's independent news source for almost 40 years, expressing the community's political and environmental concerns and supporting its active cultural scene. Now more than ever, we need your support to continue supplying Austin with independent, free press. If real news is important to you, please consider making a donation of $5, $10 or whatever you can afford, to help keep our journalism on stands.
READ MORE
More Paul Beck
Austin animators nominated for local doc 'The Eyes of Me'
Marc Savlov, Aug. 22, 2011
More by Marc Savlov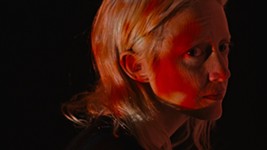 Identity melts in this psychotropic assassination brainblender
Oct. 2, 2020
Mangled Italian creature feature should be even shorter
Sept. 25, 2020
KEYWORDS FOR THIS POST
Paul Beck, 'A Thousand Pound Bomb'
MORE IN THE ARCHIVES