'Dallas Is the Reason …'
It's Texas Frightmare Weekend
By Marc Savlov, 8:29PM, Thu. May 3, 2012
Texas Frightmare Weekend begins tomorrow, May 4, with enough horror, gore, and cine-mayhem to make your last cosplay event look like four-year-olds playing with cat poop in a sandbox. (Sorry, fat dude in the Cutie Honey outfit.) Also, the Misfits might show up.
Going on its seventh year now, the Dallas-based Frightmare Weekend is one of the largest genre-fixated fan events in the country, with some of the most cult-spawning guests of any horroriented fest. Just think: a mere three hours north of us, Nancy Allen (Carrie, Dressed to Kill), Lamberto Bava (Demons), Michael Biehn (The Terminator, The Abyss), and, omfg, Ernest Borgnine (Escape from New York, Oscar-winner Marty) will be reminiscing about how impossible it was to work with James Cameron, how John Carpenter smoked too much on set, and how Brian De Palma's obsessive work on Scarface ruined our goddam marriage, although not necessarily in that order. Also, the Misfits might show up.
Woe unto us, we're going to miss it this year, but we can attest to the fact that the dealer's room is going to be chock full o' nuts and body parts, so best bring your last paycheck because, dude, you are so going to want that limited edition, three-pronged, genuine chrome-plated Phantasm sphere reproduction.
All kidding aside, TFW is has always been more fun that a barrel full of monkey viscera, and, really, where else can you show up dead on arrival and be instantly accepted as one of the gang? Hey, "you axed for it," as Uncle Forry would've said. Did we mention the Misfits might show up?
A note to readers: Bold and uncensored, The Austin Chronicle has been Austin's independent news source for almost 40 years, expressing the community's political and environmental concerns and supporting its active cultural scene. Now more than ever, we need your support to continue supplying Austin with independent, free press. If real news is important to you, please consider making a donation of $5, $10 or whatever you can afford, to help keep our journalism on stands.
READ MORE
More by Marc Savlov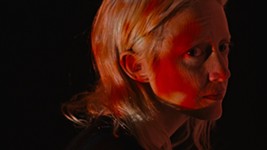 Identity melts in this psychotropic assassination brainblender
Oct. 2, 2020
Mangled Italian creature feature should be even shorter
Sept. 25, 2020
KEYWORDS FOR THIS POST
Texas Frightmare Weekend, Dallas, Ernest Borgnine
MORE IN THE ARCHIVES