Singing with the Ice King
'Adventure Time' creator Pendleton Ward and star Tom Kenny go Mondo
So I spent my Saturday being serenaded by the Ice King from Cartoon Network's super-smash Adventure Time in the Halulu Room at the Highball: What did you do with your weekend?
Tom Kenny, aka the voice of the Ice King (and also Spongebob Squarepants, Doctor Octopus, and a regular on Mr. Show), and series creator Pendleton Ward were in Austin for two special events. First, the opening of a new Adventure Time exhibition at Mondo Gallery. Second, a special feast and episode marathon at the Alamo Drafthouse. In between all that, the pair managed to cram in a few interviews. Kenny said, "Because this is a karaoke room, my initial plan was to give all my answers to the tune of Kenny Roger's 'The Gambler.'"
Sadly for Rogers' devotees, Kenny and Ward did not burst into a duet of 'Islands in the Stream' before Saturday's marathon. Instead, fans of Jake the dog and Finn the human got to see the world premier of the two-parter debuting tonight. "Return to the Nightosphere" and "Daddy's Little Monster" drag the heroes back into the Bosch-esque inferno that spawned the darker of Finn's two quasi-somewhat-on-off love interests, Marceline. Yes, lord of evil Hunson Abadeer returns, but be prepared for the horrifying truth about bananas.
The show, set in a long-after-Armageddon post-apocalyptic world of sentient candy, derring-do and magic (imagine an animated version of Harlan Ellison's A Boy and his Dog, but with less cannibalism), has become a sensation, but one that doesn't seem to know what 'taboo' means. For Kenny, Ward and his team "traffic in all kinds of humor, and some of it is about mortality and death and morbid subjects, and some of it is silly and light-hearted and goofy and surreal. That's how kids think. Sometimes you're thinking about the silliest thing in the world and sometimes you're lying in bed thinking, 'What's going to happen when mom and dad die?'"
Ward explained, "We try to make the show not feel scripted. One thing I did intentionally was try to cast actors who will do an overly-cartoony or shrill voice. I was thinking about my mom when I was making that decision, because my mom is so annoyed by cartoons. I watched them my entire life and I would always have to have the volume turned way down because she would be annoyed by it."
It's that kind of respect for kids that may be Adventure Time's real secret. Cute as it is, Archie doesn't always work for an audience growing up in an age where divorce is commonplace. When this show deal with romance, it's through the complex and nuanced relationship between the boy-hero Finn, the vampiric eternal tween Marceline, and the spoiled but sweet-natured Princess Bubblegum. Like real life kids, Kenny explained, "They're trying to work it out on the fly."
Not that all the fanbase is kids, but one whose oddball surrealism has reached out to adults. Not always in a good way, though. The famous gender-switching episode Adventure Time with Fionna and Cake was inspired in part by some of the more, er, mature fan fiction. Not that it's the first time Kenny had to deal with slash fiction. He said, "Mr Show has an intense enough cult following that my wife and I and pornographic versions of what we would do in our spare time would feature into fan fiction. Somebody sent me it and it just weirded me out too much."
But isn't this a show about a kid and a talking dog and bright colors and wizards and floating cloud people? According to both Ward and Kenny, even veteran voice actor John DiMaggio, who plays Jake, was completely befuddled by the show. Kenny recalled that DiMaggio would tell him, "'I don't understand this, I don't know where these jokes are, what is this? The stories don't seem to have any beginning, middle or end.'" Fortunately, Kenny's kids had introduced him to the show through the web pilot, so he could explain it to DiMaggio. I felt like I was trying to quell his, not fear, but his confusion. This isn't like an A-story, B-story, every nut and bolt accounted for. That's not what it's about. It's about the relationships, it's about Finn and Jake and their world and their off-hand way of relating to each other and weird crap that just happens and how girls work."
The pair seemed elated about the whole visit to Austin, especially about being the honorees of one of executive chef John Bullington's trademark feasts. Of course, this being more kid-friendly than most, there was more emphasis on hot dogs and jello than usual. That said, hey, John? You ever feel like throwing Guardian Angel Soup and the Everything Burrito on the regular menu, there'd be no complaints here.
Sadly, no 'The Gambler', but Kenny, in honor of the Tiki theme to the interview room, did dash off this little ditty, to the tune of 'Girl From Ipanema':
"The Ice King is lonely,
That's why he does what
He does he kidnaps women
To befriend."
Cha-cha-cha.
Oh, Ice King, that's the kind of behavior that will get you grounded for four weeks.
The Adventure Time exhibition at Mondo Gallery (4115 Guadalupe) runs through May 26. New episodes of the show Mondays at 6.30pm Central on Cartoon Network.
A note to readers: Bold and uncensored, The Austin Chronicle has been Austin's independent news source for over 40 years, expressing the community's political and environmental concerns and supporting its active cultural scene. Now more than ever, we need your support to continue supplying Austin with independent, free press. If real news is important to you, please consider making a donation of $5, $10 or whatever you can afford, to help keep our journalism on stands.
READ MORE
More Alamo Drafthouse
Alamo heads to the great outdoors for Sleepaway Camp
Marc Savlov, May 11, 2018
Update: Faraci resigns, company to begin employee outreach
Richard Whittaker, Sept. 13, 2017
More Adventure Time
This time, Jake and Finn bring some 'Regular Show' friends with them
Richard Whittaker, June 10, 2013
Cartoon Network's surrealist fantasy does crossplay
Richard Whittaker, Feb. 23, 2013
More by Richard Whittaker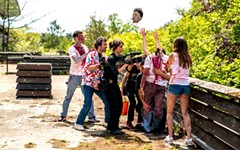 French remake of beloved Japanese movie-making comedy adds a little
Sept. 30, 2022
Wall-to-wall Godzilla in the new show, opening tonight
Sept. 30, 2022
KEYWORDS FOR THIS POST
Alamo Drafthouse, Adventure Time, Mondo, Cartoon Network, Pendleton Ward, Tom Kenny, Jake, Finn, Marceline, Princess Bubblegum, John DiMaggio, John Bullington
MORE IN THE ARCHIVES