Hallo, Spaceboy! 'Richard Garriott: Man on a Mission' Returns to Earth
Local doc with stellar ambitions opens at Alamo
By Marc Savlov, 1:58PM, Thu. Jan. 19, 2012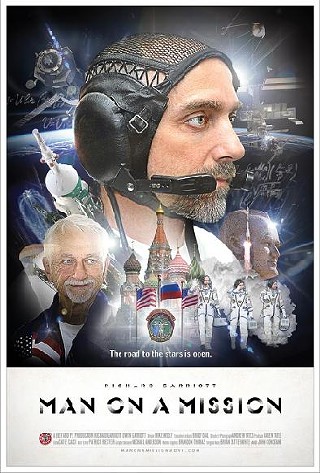 It's been quite the interminable space opera, distribution-wise, for Austin-based Beef and Pie Productions' out-of-this-world documentary Richard Garriott: Man On a Mission, but the countdown is finally over.
The epic chronicle of our local uber-geek/gamer-god's sojourn into space has finally landed in theaters (and pretty much everywhere else), thanks to distributor First Run Features.
The film, which snagged the SXSW Audience Choice Award back in 2010, is currently playing in selected cities. More to the point, it opens in Austin tomorrow at the Alamo South Lamar with a special 7 pm screening featuring Garriott, director Mike Woolf, cinematographer Andrew Yates, producer Brady Dial, and a special, imbibable appearance by Sputnik, a Russian Imperial oatmeal/coffee stout beer, courtesy of Austin Beerworks and the roastmasters at Cuvee.
Beef and Pie's late-breaking distro deal is something of a coup, incorporating not only First Run Feature's ten-city theatrical release but also video on-demand through Warner Brothers Home Video/Gravitas. Which means you can watch it in the luxury of your own cockpit via Netflix, the iTunes Store, etc. (Although we highly recommend you hit the Alamo screenings as there is presently no Sputnik in your 'fridge.)
We covered the film and its ever-eloquent protagonist in print two years back, but the subject of space tourism has since become big news. Just last month China announced plans to paint the moon red, Richard Branson's Virgin Galactic, Space X, and Space Adventures are all competing for customers willing and able to shell out for a still-pricey tourist ticket into outer space, and both Ray Bradbury and Ray Harryhausen may yet live to see their own, prescient space-travel dreams come true.
Says director Woolf, "For me, this movie captures the moment in history when the gates were opened for private space travel. For years people have tried things and failed but we're getting to the point now [in private space travel] where a lot of the fat has been cut away and you're seeing successes like Branson's Virgin Galactic. And that's because there have been all of these other people, like Richard Garriott, pushing all these other technologies up until now. There's a line in the film from [Google founder] Sergey Brin where he says that he sees this as, potentially, the beginning of a great new industry. Dude, when Sergey Brin says something like that? I think people should listen."
Richard Garriott: Man on a Mission opens Friday, Jan. 20, 7pm, at the Alamo Drafthouse South.
READ MORE
More Man on a Mission
Beef & Pie Productions shines a light on Richard Garriott's space travel in 'Man on a Mission'
Marc Savlov, Aug. 7, 2009
More Richard Garriott
Got the coding chops for something 37 years old?
James Renovitch, April 17, 2014
Space and gaming pioneer is auctioning off 500-plus items
Monica Riese, Sept. 12, 2013
More by Marc Savlov
The origins of the iconic Amazon princess
Oct. 13, 2017
Supreme Court judge biopic has bite
Oct. 13, 2017
KEYWORDS FOR THIS POST
Man on a Mission, Richard Garriott, Beef and Pie
MORE IN THE ARCHIVES