Viva Les Slackers!
Viva Les Amis and Slacker 2011 double-team
By Marc Savlov, 7:30PM, Mon. Aug. 8, 2011
"There's always something really cool that you should've seen, but it's gone." That's the tagline to Austin filmmaker Nancy Higgins' affectionate and melancholy portrait of long-gone Les Amis Café, the aptly titled Viva Les Amis. It could just as easily apply to Richard Linklater's 1991 hit Slacker.
Now, on the eve of the premiere of the Austin Film Society and the Alamo Drafhouse's feature-length updating of Linklater's seminal "Dude, you totally missed everything that was cool about Austin" masterpiece, Higgins and the AFS are teaming up to help fund the Texas Filmmaker's Production Fund.
For the next two Wednesdays – August 10 and August 17 – AFS will be screening Linklater's original alongside footage from Slacker 2011 at The Alamo Ritz with 35% of the door going to the TFPF. But wait, there's more. Higgins, a past TFPF recipient, has graciously offered to donate 30% of any profits made from the merch section of her website to TFPF as well. So that's two awesome ways to support the Fund that supports the filmmakers that are making the films that are really cool and that you will see. As opposed to Les Amis, which is gone, daddy, gone.
A note to readers: Bold and uncensored, The Austin Chronicle has been Austin's independent news source for almost 40 years, expressing the community's political and environmental concerns and supporting its active cultural scene. Now more than ever, we need your support to continue supplying Austin with independent, free press. If real news is important to you, please consider making a donation of $5, $10 or whatever you can afford, to help keep our journalism on stands.
READ MORE
More Slacker
'Slacker' and works from the Texas Archive of the Moving Image selected
Marjorie Baumgarten, Dec. 19, 2012
Robert Rodriguez's 1993 debut to be honored with a Sundance screening
Marjorie Baumgarten, Dec. 14, 2012
More Slacker 2011
A suitably rowdy crowd cheered on the affectionate homage
Kimberley Jones, Sept. 1, 2011
Marslett and Kafka on Slacker 2011
Marc Savlov, Sept. 1, 2011
More by Marc Savlov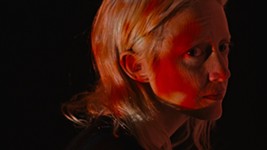 Identity melts in this psychotropic assassination brainblender
Oct. 2, 2020
Mangled Italian creature feature should be even shorter
Sept. 25, 2020
KEYWORDS FOR THIS POST
Slacker, Slacker 2011, Viva Les Amis, Nancy Higgins
MORE IN THE ARCHIVES